How Can I Make Money as a Freelance Writer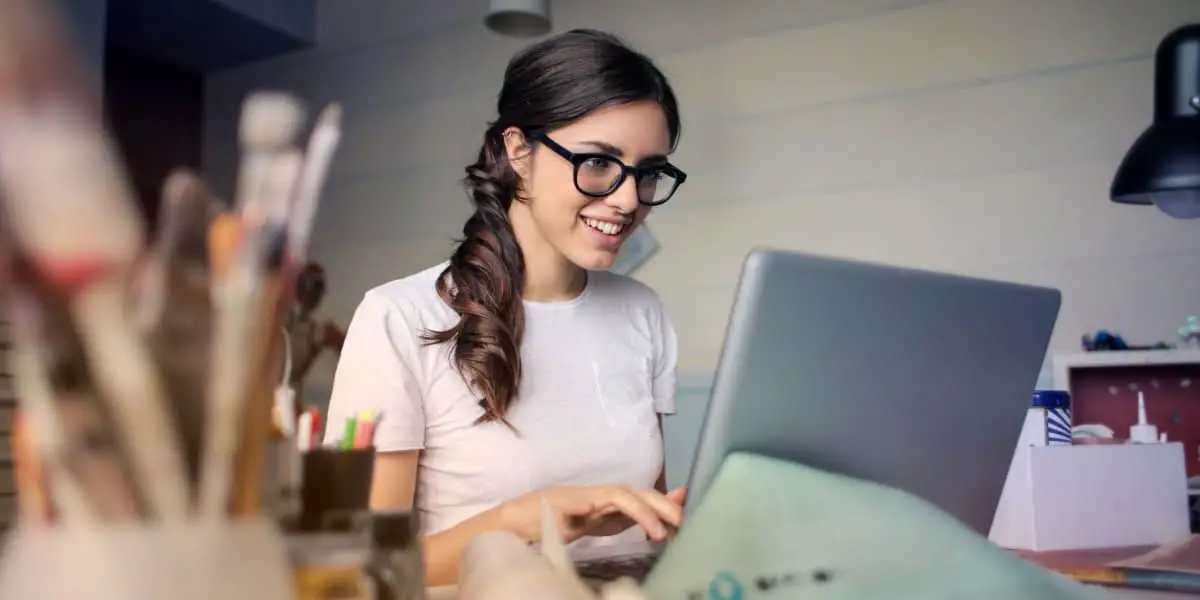 Dreaming of trading in your 8-5 job to work from home? Or maybe you're looking to increase your income to get out of debt faster or to take that big vacation you've been thinking of. Whatever your reason, starting a freelance writing career is a great way to earn money on the side or as a full-time career.
If you like to write — and are good at it — you can make money as a freelance writer. It can help you follow your dream of being self-employed, lead you to make more money than you did in your day job, and give you complete control over your schedule.
Writing has always been a passion of mine, and I stumbled into the world of freelance writing by accident. I had no idea people would pay me to write for them! I first started finding writing gigs on sites like Upwork and Textbroker. From there, I was able to trade in the smaller assignments and grow into having more significant business clients of my own.

Want Proof?
As a side-income, a freelance writer can expect to earn an extra $2,000 or $3,000 a month. But if you build your career and take the plunge into full-time writing, you have the potential to replace your regular income.
Note: This post may contain affiliate links, which means if you buy from my link I might make a small commission. This does not affect the price you pay. See the full affiliate disclosure

 

here.
Think it's too good to be true? Think again.
I started writing on the side while working a full-time job. It was exhausting… and my income wasn't consistent. I might make $300 one month and only $100 the next.
Something had to give. So I took the plunge and invested in a course. Finally, I had someone who had been-there and done-that to walk me through how to get my freelance writing business off the ground!
It wasn't a lot of money. But I wasn't used to spending money on myself, so it was tough to part with. But it was so worth it! In three weeks, I had more than recouped the cost of the course – I had two new clients! And it only got better from there.
After about nine months, I was "this close" to replacing the income from my part time job. That's when I knew I was onto something. I realized you really can make a living working from home as a freelance writer!
Get Started Writing
The best part about starting a freelance writing career is that you don't have to invest a lot of money in the beginning. If you already have a laptop, that's most of the start-up expense right there.
Purchasing a course is a great way to get started. In the beginning, I wanted to save money and researched it all myself. I did eventually invest in a course, and it was the best decision I ever made. Yeah, it was a little pricey but I made that money back after the first two weeks, and that turned into a long-term gig that I'm still cashing in on.
If you want to learn from the best, I highly recommend Freelance Writer Academy. A course can teach you so much! And here's the thing… if I had bought that course in the first place, I would have gotten started a lot faster and my income potential would have been that much greater in the beginning.
You should also consider buying a domain and setting up a website to create an online profile. It's a great way to gain credibility with potential clients and share samples of your work. But if you can't do that right now, don't let that stop you — create a LinkedIn profile and start marketing yourself as a freelance writer.
I also recommend finding a few lower-paying jobs on sites like Upwork when you first get started.
Starting in May, freelancers will be charged anywhere from $0.15 and $0.90 to submit a job proposal, as opposed to being free. To help freelancers and employers alike prepare for the transition, here is a comprehensive guide to the Upwork Connects pricing changes with everything you need to know.
The ProBlogger job board is an excellent choice to find your first paying gig, too.
Starting small will help you gain confidence in your writing and give you the experience of working with clients directly.
How to Become a Freelance Writer
Once you decide to pursue writing, decided to invest in a course, and set up an online profile, here are the exact steps you can take to start making money in the next 30 days (or less!).
Push through your fears
Trying something new is always scary at first. But if you want to start making money as a freelance writer, you have to push through your fears to get there. You'll learn as you go, so take that first step and don't let a perfectionist mindset stop you.
Choose what to write about
Finding a writing niche is one of the first roadblocks you'll face as a freelancer. It's best to build on the knowledge you already have. If you're a teacher, for instance, look for writing jobs centered around education and teaching.
Build your portfolio
This is the catch-22 of starting a career. Clients want to see samples of your work before they hire you but you need them to hire you to get samples! The only way around this is to write for free. Network with bloggers and see if you can write an article for their site, or start a blog to showcase your writing skills.
Track your income
To have a successful business as a writer, you need to treat it as a business. Tracking your income growth and keeping your business finances separate from your personal funds is crucial. Setting up a business bank account is a hassle-free way to track your income, and it'll help you come tax time. Plus, keeping a record of your income will motivate you to learn and give you a foundation to increase your rates over time.
What are you waiting for?
Getting started as a freelance writer is a simple, low-cost option to make extra money on the side. Investing in a course will jump-start your income opportunities, but the important thing is just to get started. It's time to change your future!