How to Make Money Programming From Home: 10+ Income Ideas for Coders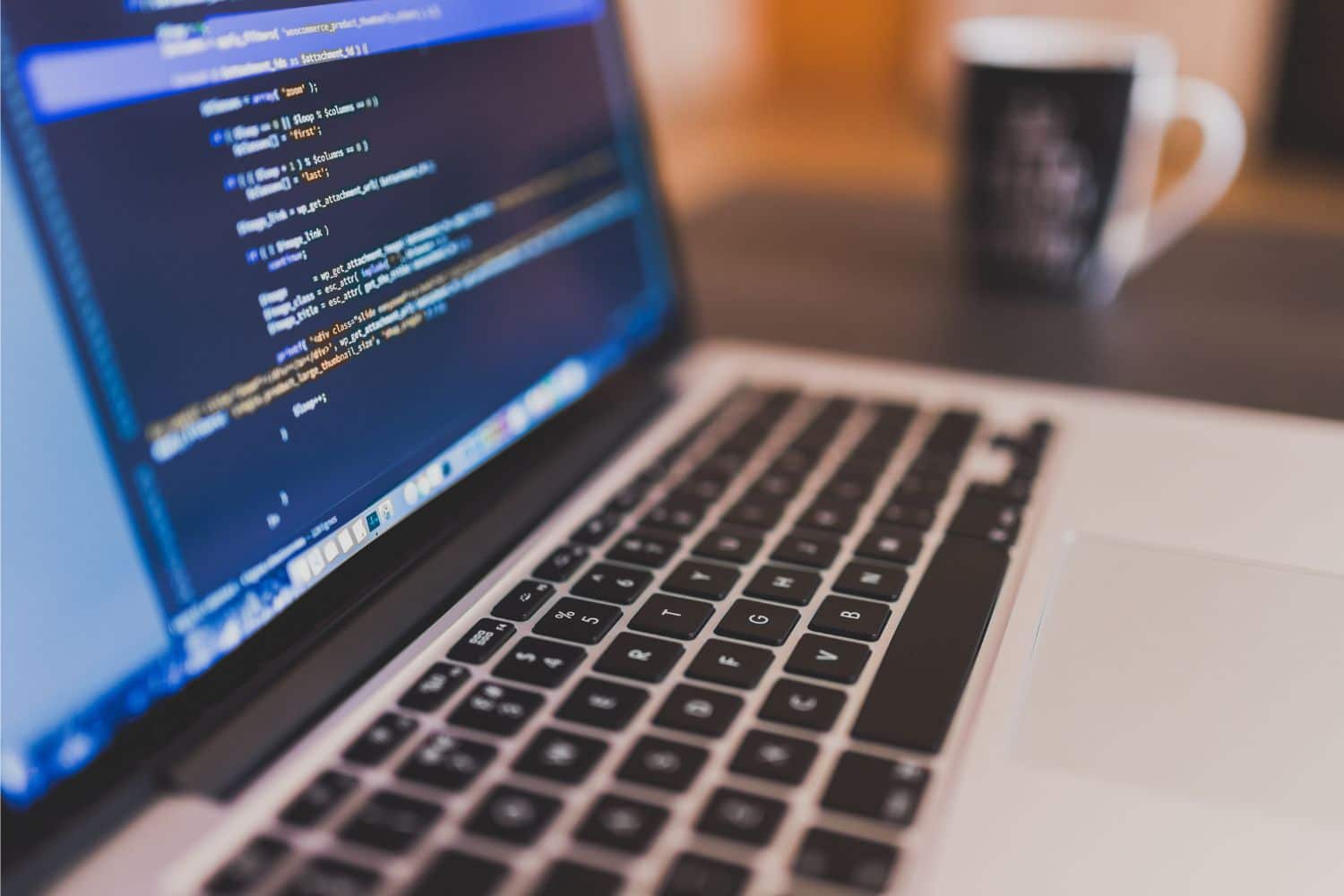 Are you super good at coding? Do you like programming software? Have you ever thought of potentially making money from your talents?
If you answered yes to any of those questions, then it must be fate, I swear! You were meant to see this blog, my dudes!
If you want to learn how to make money programming from home, you have come to the right place. Programming is one of the most sought-after jobs and will only get bigger and better the way that technology is growing these days!
If you want to start making money, then buckle up because I am here to help you! Let's get right into it! 
Note: This post may contain affiliate links, which means if you buy from my link I might make a small commission. This does not affect the price you pay. See the full affiliate disclosure

 

here.
Okay, but What Exactly Is Programming?
Now, I'm sure we all know what programming is. However, just to make sure that we are all on the same page here, let's take a little gander into the definition.
Simply put, programming is the practice of developing a program that the computer will perform and complete a specific task. Programming is used everywhere, from our phones, computers, apps, website.
You name it, someone developed the program that allows you to do those functions. How cool is that, hey? 
What is Code? 
Now, when we are talking about code, we are talking about a language that computers understand. Just like you and I can communicate with each other through language, computers can communicate through a language we call code.
Just like we have many different languages that people speak depending on the country they are from, code actually has other languages!
And while there are many different computer code types that you can learn, there are generally two main ones: web development code and computer science code. 
What is Web Development Code?
When we think of web development code, we are talking about code that the internet uses to function. For example, the most common type of code that we have is: 
Do any of those rings a bell? I thought so!
What is Computer Science Code? 
On the other hand, we have computer science code. This type of code is used to build programs that computers will use. However, the code used to create these programs will incorporate other types of code, including JavaScript.  
How to Make Money Programming From Home
Programming is one of the most valuable skills that you can have, not only for today but for the future, as we mentioned before.
While this skill is high in demand for tech development companies, there are still other ways that programmers can make money on their own, from the comfort of their own home.
If that sounds like something you would be interested in, then stick around because here are some ways to make money programming from home! 
1. Start Freelancing from Home 
Have you ever thought of selling your skills and becoming a freelancer? No? Well, let me tell you, you have been missing out on some sweet opportunities here, people! You can freelance online on platforms such as Fiverr and Upwork.
You are guaranteed to make some good side money! If all things go well, then you could even turn it into a full-time gig!
Like who would not want to work from home for themselves and choose their own schedule? Seriously it's like a dream come true. I'm tearing up already. 
Related: How to Get Freelance Clients: 13 Proven Ways To Land More Clients
2. Coding Contests 
Do you think you got the fastest fingers on the internet? Do you believe that you can write code well? If you answered yes, then why don't you enter a coding competition?
Coding competitions happen all the time, and they always have massive rewards for participants!
Not only is it a great place to make money, but it's also a fantastic way to network and showcase your skills as a programmer! There are usually people who are scouting for young talent coders to hire to their team.
So, if you can, I highly suggest looking into coding competitions that are happening in your area! I promise you will not regret it! 
3. Become an online coding instructor 
Another fantastic way to make money as a programmer from home is to become a programming instructor! There are so many people online from all over the world who would gladly have someone mentor them on how to code!
If you want, you can even create a course and sell it to people online! This is a great way to make passive income as well for the years to come! 
4. Start a Programming Blog 
If you want to make money from home as a coder, then why not start a blog? Although this may be slightly out of your forte, you can still make really good money blogging about programming!
You could post how-to blogs, tutorials –the whole nine yards! And the thing is, is that because it's a popular niche.
If you post high-quality content and get enough traffic coming to your website, then you can monetize and start wracking in that cash!
5. Make a YouTube Channel 
Another fantastic way to make money online programming from home is to start a youtube channel. I know what you're probably thinking; it's not what you were expecting.
However, think about all the people out there around the world who are looking for high-quality how-to coding content videos that will teach them how to code!
Think about it! If you bring in a lot of traffic into your site and start monetizing your videos, you have just made a passive income source for yourself.
Even if you post one video a week and monetize that, you are still making a decent amount of money! Especially with how popular programming is! 
6. Build an App and Sell it
If you have an idea for an app that you have been sitting on for the last little while, my friends, It's your time to shine! If you can create an app and sell it, then boom! Passive income, my friends!
While this may seem more straightforward than it actually is, just make sure that you have a solid business plan and plan out how you are going to monetize your app once it is ready to go. After that, you can sit back and relax. 
7. Write and Sell an E-Book 
If you want to make another form of passive income for yourself, then writing an e-book is the way to go! E-books are extremely popular these days and can be written on any type of content imaginable.
Not only is writing an e-book a fantastic way to market yourself, but it is also a great way to generate some leads for your business! Having an e-book would also be very beneficial if you had a blog as well.
However, regardless of whether you have a blog or not, target audiences will always be on the search for educational resources that will help them learn how to program. 
8. Make a plugin for WordPress 
WordPress is arguably one of the most popular blogging and website platforms in the world. With already 55,000 (and counting) plugins available, this is definitely one of the smartest ways to begin making your money!
You may see that number and think, nope, not a chance. There's way too much competition, and there is no way that I could make money off of that. Think again!
Contrary to popular belief, a saturated market is a good thing. Use your skills to your advantage and begin marketing yourself and your plugin program! That way, you will get seen online and attract business.
In today's day and age, it's arguable all about selling yourself in person and online. Therefore, you need to do just that and start promoting yourself!
9. Brand Yourself 
This is going to be one of the most beneficial things you do as a programmer. I suggest you set yourself up with a sleek website that looks and functions really well. It needs to have your portfolio on it, list your skills, and you can even add a blog on it!
This is not only going to allow you to showcase your work, but it's also a great way to monetize.
You can do sponsored ads, Google AdSense, and other affiliate marketing gigs that are going to bring in revenue for you and open up a lot of doors for the opportunity! 
10. Build Websites and Sell them to Other People 
Building and selling a website is also another fantastic way to make money as a programmer for home!
People and businesses are always looking for well-made, functional websites for their businesses. Suppose you can create websites that function optimally and look good.
In that case, this is definitely one of the best ways to make money programming from home. Even so that you could most likely make websites and sell them full time, all from the comfort of your own home! 
11. Become a Python Developer 
No, not the snake. If you know anything about python, you will know that their knowledge platform is growing fast, and it's one of the easiest ways a programmer can make at least 100K a year. Yes, you read that correctly, my friends.
You could be doing anything from building websites, data analytics, creating code, doing security –the list goes on and on!
Companies worldwide are searching for people who know python programming, and if you are willing to put in the work, then I guarantee that you will make a bank! What are you waiting for? 
12. Become a Professor at a University 
If you've decided that you would instead help students learn code rather than working for a company, why don't you become a university professor?
You can teach classes online if you want or on-campus each semester! Another bonus of being a professor is that the school you work for will fund your research.
So, you can work with students while teaching them to code to research and program projects that will one day be valuable in society! 
13. Set Up advanced Home automation for people 
People these days are always looking for ways to automize their home in any way possible. This is why providing a service for that is oh so valuable!
If you can help another program their families using smart technology along with your code, then people will be willing to pay through the roof for your services! Not only is this a great way to make money, but you can also build a business out of it!
While this isn't technically a home job, you can still provide services for people's homes, which is why we included it in our list (see what we did there?) It
Final Thoughts 
As you can see, programming is one of the most valuable skills that people can have in society these days. The tech industry is only growing more rapidly. This means that the industry itself is going to exponentially grow in the next 5 to 10 years.
If you want to build a stable career path for yourself and make money doing it, then programming is your way to go! 
Not everyone wants to work for a company, and that's okay.
Take what you have learned as a programmer and apply it to building a brand and business for yourself or teach other people how to learn code! The options are truly endless! Let's make that money! 
And there you have it, my friends. How to make money programming from home! If you have any other suggestions on making money as a programmer from your home, leave us a comment down below. We would love to hear from you! 
As always, it has been a slice –until next time, my dudes!  
Read More: 20+ Best Jobs That Help People and Pay Well