15+ Jobs for People Who Hate People & Love Working Alone (High-Paying)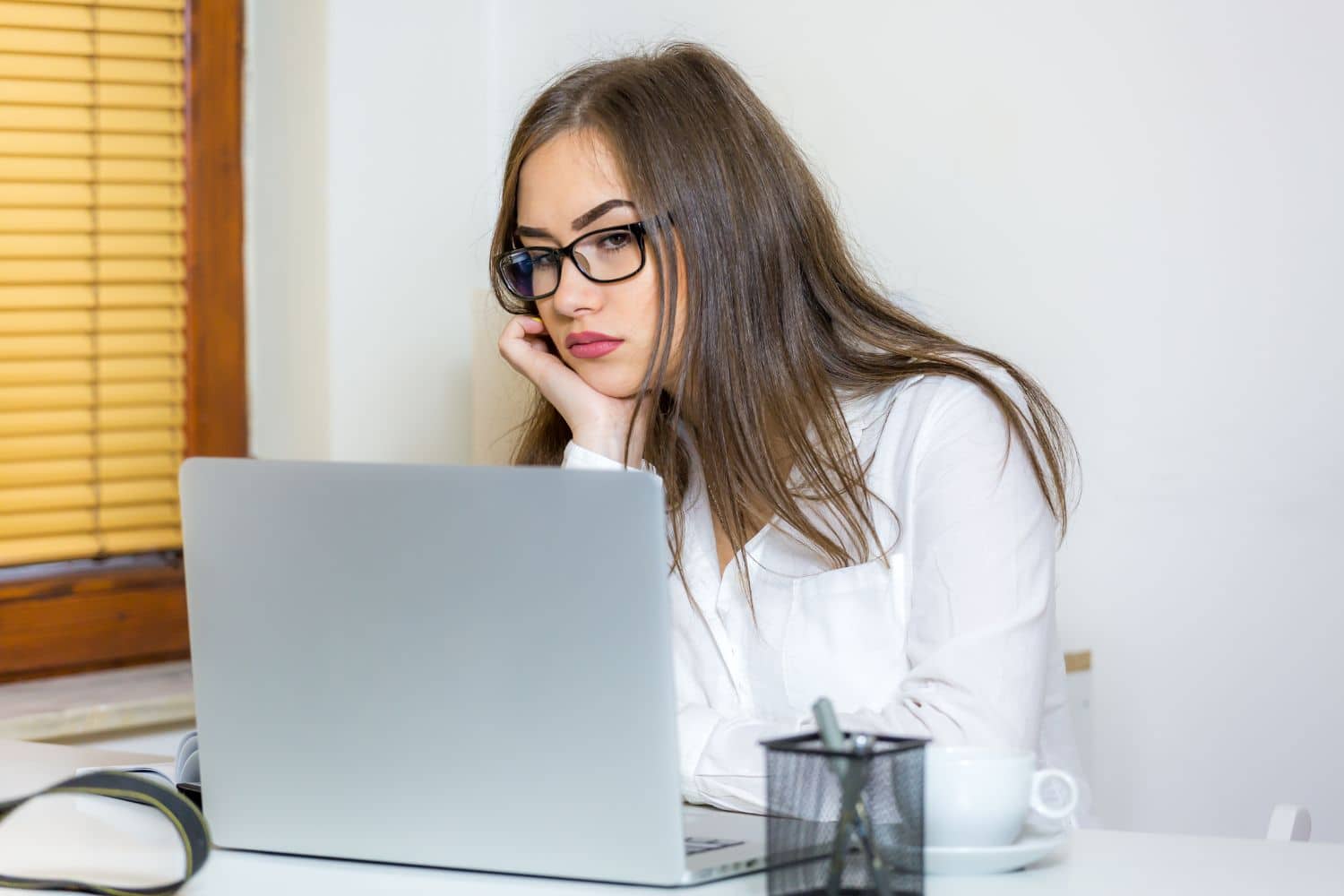 Today we are going to be talking about jobs for people who hate people! Yes, you read that correctly. Look, I get it, people are great …most of the time. 
And I totally don't blame you if you want to keep your distance, but still, make some money! I mean, at the end of the day, we have got to live! 
Am I right? So, look, I'm here to deliver you what you would like to read the most! If you're looking to make money with limited human contact, here are some jobs for people who hate people. If this sounds like you, then stick around!
Let's get right into it before I go into a tangent, shall we? 
Note: This post may contain affiliate links, which means if you buy from my link I might make a small commission. This does not affect the price you pay. See the full affiliate disclosure

 

here.
What Is an Introvert?
Look, people don't just hate people to hate people, okay? Well, unless you're weird like that. If you find people to be annoying, there's a terminology for that, and it's called being an introvert.
This is basically just another scientific term for you, like being alone most of the day instead of interacting with people. 
And while you may think that being an introvert isn't great, they are actually more detail-oriented and listen more. Which, if you ask me, is a perfect couple of qualities to have! 
Okay, now that we have that out of the way, let's get into our list of jobs for people who hate people! 
Jobs for People Who Hate People 
1. Freelancer 
I've said it once, and I'll say it again, freelancing is a fantastic way to make money these days! Sites like Fiverr and UpWork are popping with people looking for professionals to hire for their jobs! 
The nice thing about these websites is that you don't have to have a special skill. Suppose you're already into graphic design, writing, voice-overs, etc.
In that case, you can sign up for a profile (for free) and begin making money instantly! 
The great thing about freelancing is that you get to work from home or wherever else you would like, and you can choose your own hours! Who doesn't want to be their own boss? 
2. Social Media Manager 
If you are a social media wizard, then being a social media manager may be the right job for you!
Although social media managers are dealing with people, they can still keep their distance and work from home. 
Your job as a social media manager will promote social media influencers, make their social media posting schedule, and work with brands to get the deals. It's like working with a celebrity if you think about it! 
3. Graphic Designer 
Perhaps you're not one with words. And that's totally okay! A graphic design can express themselves with visuals instead of having to speak to people!
Businesses are always looking for people to help them with graphic design projects for marketing and other campaigns.
If you are a good artist and know your way around a computer, then this may be the perfect job for you! 
Again, you can work from home and choose your own hours. The only time you are really going to be speaking with people is when you are working with clients to understand what they're looking for from you!
Simple and easy. This is why it is the perfect job for people who hate people. 
4. Animal Care 
If you don't like people, but love pets (I totally understand), why not be an animal care worker?
Whether you're working at an animal shelter, doggie daycare, or even having your own dog walking gig going on, you don't have to deal with people, and you get to spend time with animals.
Seriously this sounds like the perfect dream. Animal therapy and you're getting paid? Sign me up! 
5. Become a Blogger 
If you really want to start making money from home, then why not become a blogger? Blogging is not only a great way to talk about the things you are passionate and knowledgeable about, but it is also a great way to begin making money from home! 
If you are looking for something that will pay off in the long run, and you are willing to work at something without seeing results right off the bat, then blogging is for you. 
You can blog about anything you want! Just make sure to pick a niche and stick with it. If you're serious about blogging, then you can definitely make it work! 
6. Computer Programmer
Are you good with computers? Perhaps you prefer to speak the language of computers instead of speaking to humans? Then why not become a computer programmer?
You can code anything these days, from websites to software and applications!  
If you are looking to make big money and work from home, you have found a winner. You can work for yourself or work for a software development company –whatever your preference is! 
7. Start an Etsy Shop 
This is another fantastic gig for people who hate people and who are artistically inclined! Etsy is an excellent online marketplace that allows creatives to sell the products to people worldwide! 
Whether you're a baker, artist, or even sell your own merch, Etsy is a great way to grow your business!
Seriously you guys, the options are really endless for making your own art and selling it! So why not try this one out? 
8. Photographer 
If you don't like people, then why not become a photographer? You can spend your time outside in nature or around the city taking photos of the things that interest you the most! No human contact is needed!
You can then send your photography online to people who are willing to buy it! You can even sell it on Etsy if you wish! 
9. Video Editor 
Again, if you have a thing for making art and are good with computers and editing, why not become a video editor?
People are always looking for people to edit their videos for them! You could even become a full-time editor for a YouTuber or other type of content creator! 
The best thing of all is that you only have to work with one other person, and you can most definitely work from home! It's a win-win situation if you ask me! 
10. Gardener 
If you are looking for a job that doesn't deal with people, why not become a gardener and open up your own garden shop? You can grow your own plants and nurture them, so they are ready to be sold! 
You won't even have to deal with people, but rather have an excellent mutual relationship with the plants.
Work at your own pace and do something for the environment at the same time! 
11. Manuscript Reader 
Are you a bookworm like I am? Do you love reading new books and think you have good taste in what would sell and what wouldn't? Why not become a manuscript reader! Who wouldn't want to dabble in new up and coming author books every single day? 
Seriously, it's like a dream come true! You might even pick the next New York Times best-selling author! You would most likely have to work at a publishing house to have this job.
However, you would be so busy with your nose in the next most incredible book that you would have no other time to interact with people. 
It's the perfect scenario! 
12. Virtual Assistant 
Another one of the fantastic jobs for people who hate people is to become a virtual assistant. Emphasis on the virtual! Busy business people are always looking for assistance with their everyday tasks that they don't have time to do! 
That's where you come in! You can do anything from scheduling meetings, organizing documents, making appointments, posting on social media –you get the point! 
The nice thing about being a virtual assistant is that you can make big money all from the comfort of your own home!
You can also choose an industry that suits your skills the best, so you are comfortable with what you are doing!
13. Transcriptionist 
Another way to make money when you don't like dealing with people is to become a transcriptionist! People will pay you to transcribe audios, videos, and other media formats into word documents for them! 
If you are a good typist and can multi-task by listening and typing simultaneously, you should definitely try transcribing for people!
You can transcribe with a company, or you can find gigs online! Work from the comfort of your own home and choose your own hours! 
14. Voice Actor 
Do you find yourself particularly enthusiastic with your voice and think you mimic it into different voices, then why not try being a voice actor?
You can voice for various projects, including movies, TV shows, commercials, and more! 
Voice acting is a great way to make money and work from the comfort of your own home for the most part!
All you have to do is make sure that you have a microphone handy and a quiet place to work, and voila! 
15. Researcher 
This one is for all of my academically inclined people out there! Do you have a particular topic that you are incredibly interested in that you could research all day without ever getting bored?
Why not become a researcher then! Whether it be market trends, working with another researcher to publish a paper –you name it, you can do it!
16. Astronomer 
If you are anything like me, you are obsessed with the great unknown of the adequate old outer space!
Seriously, I sometimes get so into researching topics about space that I give myself a headache and spiral into a full-blown existential crisis before I know it! If you are interested in space, why not become an astronomer?
You can research planets, galaxies, and stars. You could even discover something new about the universe that may have never been found before! 
17. Accountant 
If you are rare and enjoy doing math for fun, why not become an accountant? Not only is it a high paying job, but you also rarely have to deal with people all day.
Do people's taxes, balance their checkbooks, and focus on numbers all day instead of speaking to other people.
You can even keep your door closed all day to your office to really tell people that you mean business. 
18. Website Developer 
If you are good at creating a website and find yourself artistically inclined, then website development and design is an excellent job for people who hate other people!
Not only are you able to avoid speaking with other people for the majority of your job, but it is also a highly paid profession as people are continually looking for other people to help them with their website development! 
19. Architect 
If you are creating and designing them to test the odds of what is and what isn't possible with architecture, why not become an architect?
This is one of the highest-paying jobs on our list, and you don't have to deal with people at all for the most part! You can even have your buildings become a reality if someone likes your designs!
Exceptionally, how cool would it be to say, "yeah, I designed that." I think it would be pretty cool if you ask me! 
Final Thoughts 
As you can see, there is hope for people who are looking for jobs that don't involve very much human contact. Look, I get it; humans can be annoying sometimes.
But who am I to talk? I'm sure I've had times where people are incredibly annoyed with my rambling. I can't help it that I'm outgoing! I blame my parents. 
Anyways back onto our topic here. Let me know your favorite job that you are interested in trying in the comments down below. I would love to hear what you guys have to say!
You can even suggest a couple jobs that I haven't mentioned if you would like! Until next time my friends! It's been a slice!  
Read More: Side Jobs For Nurses To Make Extra Money