20+ Best Jobs That Pay Under the Table (In Cash!)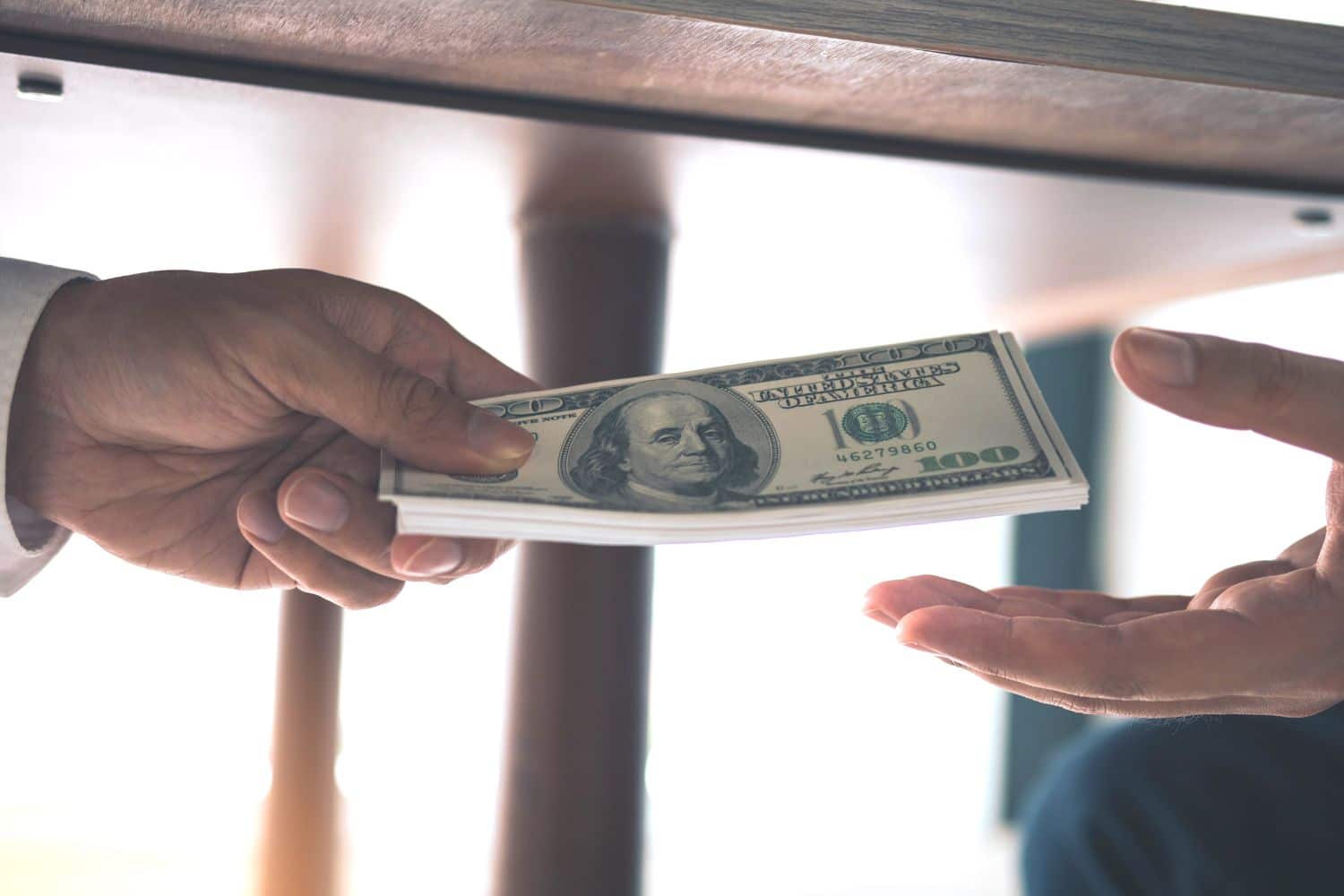 What's that saying again? Oh yeah, money makes the world go around. And who doesn't like a little extra cash on the side without having to pay taxes on it?
Searching for jobs is hard enough as it is, and finding cash paying jobs can sometimes seem like a job in itself. Am I right?
Lucky for you, here I am again, providing you with the solutions to your problems! I'll take my payment in cash (see what I did there?).
Take a look at this extensive list of the best jobs that pay under the table I've created for you and start making cash today! 
Note: This post may contain affiliate links, which means if you buy from my link I might make a small commission. This does not affect the price you pay. See the full affiliate disclosure

 

here.
Let's jump right in…
1. Tutoring
If you've read any of my other posts, you already know what I'm about to say! Why not make money tutoring younger school kids! 
Trust me, this job is one of the best jobs that pay under the table, no questions asked. This is the perfect side gig for a university student who doesn't have a lot of time to work during the week. 
With tutoring, you can expect a high wage and with minimal hours without getting taxed.
2. Babysitting
If you're good with children and have a couple hours to spare on weeknights or weekends, parents will pay you big money to have time away from their kids, trust me. 
Babysitting is one of the most straightforward jobs on the planet (if you know what you're doing). 
Who wouldn't want to get paid to watch TV and eat unlimited snacks while the kids sleep for half the night! 
Parents are always open to paying babysitters large sums of cash for a little bit of freedom.
3. House Sitting
If you have friends or family members traveling for more than a couple of weeks, why not ask them to look after their house while they're away? 
Clean up occasionally, feed the family pet, and do odd jobs here and there (aka watch movies all day in your pajamas).
 Just do me a favor and don't throw a party without the homeowner's permission. For legal reasons, we don't need a Party X situation on our hands, okay?
4. Dog Walking
There is nothing that I love more in this world than dogs (okay, and Harry Styles.) 
If you're anything like me, then one of the best jobs that pay under the table is dog walking. 
Walking through the neighborhood on a sunny Sunday afternoon – this gig only takes a couple hours out of your day, and the pay is oh so lovely! 
The great thing about this job is that the hours are flexible. 
Pet owners appreciate other people who love their pets just as much as they do, so you can definitely expect to be tipped (in Cash) on top of your hourly rate.
5. Snow Removal
Suppose you live in a place where the winters are oh so unbearable. In that case, this is your perfect opportunity to take advantage of a chilly situation. 
Trust me, very few people love snow. And let me tell you, more people love paying other people to deal with the snow than dealing with it themselves. 
If you're looking to make money under the table during the winter, then you should definitely be looking into shoveling snow for people.
6. House Cleaner
Is it just me, or does cleaning the house on particular days act as a form of therapy? Other days, you won't catch me cleaning anything. 
The great thing about cleaning houses is that you don't need to own a cleaning business to start working! 
Take a look at Facebook or Craigslist for cleaning gigs; you are sure to find plenty! 
You can even offer your customers different cleaning packages to boost your income.
7. Manual Labor
If you're looking to get fit and get paid while doing so, working manual labor is one of the best jobs that pay under the table out there. 
This type of labor can be anything from waste removal, chopping firewood to fixing bits and bobs around someone else's home! 
If you're okay working with your hands, people are willing to pay under the table for some extra help around their house. 
Again, the best way to look for these types of jobs is on Craigslist and Facebook Marketplace.
8. Street Performer
Are you a singer, magician, or musician? Do you like performing in front of a crowd? 
Why not try our luck at performing on the street on a busy weekend afternoon! People (especially tourists) love to watch people act on the street. 
If you're talented and can attract a supportive crowd, people are always willing to throw in a couple bucks for quality entertainment. 
Plus, you never know if a talent scout is watching or not!
9. Photographer
People are always looking for professional photographers to capture their most exciting moments in life. 
Whether it be a wedding, engagement photos, or a simple family get together, people are willing to pay photographers under the table for their services. 
You can even charge extra to have the photos edited on photoshop.
10. Make and Sell Products at the Flea Market
If you're a crafty person, then a great way to sell your products and make money under the table is to sell your items at your local flea market! 
People love going to flea markets to purchase handmade arts and crafts. 
This is also a great way to build a clientele and promote what you've made to an audience that isn't online!
11. Makeup Artist
Trust me, if I could do makeup as well as half the people I know, I would definitely start charging people for my services! 
People are always looking for makeup artists to work events such as weddings, fashion shows, and proms. 
The nice thing about being a makeup artist is that you don't have to go to school to become one. You can learn all you need to know from the makeup industry's top artists on YouTube for free. 
If you have an eye for detail, this is a great gig to begin working.
12. Nail Technician
Who doesn't want their nails looking fleek? 
Becoming a nail technician is the perfect way to make money under the table. People love getting their nails done a couple times a month (myself included). 
Although you must take a course to get certified, one of the best things about this job is that you don't have to work in a salon to get paid.
So many nail technicians work out of the comfort of their homes. Suppose you are a great artist and provide quality work. 
In that case, people are always willing to tip their nail technicians extra Cash at the end of their appointment.
13. Personal Trainer
If you are an avid fitness mongrel and love to help others on their fitness journey, become a personal trainer! 
The best thing about being a personal trainer (besides the rock-hard abs) is that you have the option of whether you want to work at a gym or outside. 
A lot of people are willing to pay trainers Cash to throw boot camp classes in park settings.
 Be one with nature while you wrack in the big bucks. Sounds absolutely splendid to me!
14. House Painter
If you're okay with getting your hands dirty (and clothes), then why not start a painting business. 
Homeowners are always looking for people to paint their homes, whether it be inside or outside! 
Depending on the house and project's size, you can choose your own rate and even hire people to work alongside you. This is definitely one of the best jobs that pay under the table out there.
15. Hairdresser/ Barber
Suppose you've been to hair school and are looking to make money under the table. 
In that case, you should consider opening a salon in your home or traveling to people's homes to cut their hair! 
Whether it be a cut or color, hairdressers can charge a lot of money for perfecting someone's dream hairstyle.
16. DJ
Are you the next Diplo? Do you like making funky beats for people to dance to? 
If the answer is yes, then try your luck at becoming a DJ. Look, I'm not saying this gig guaranteed to make you famous. 
However, even if you don't headline Coachella, people are still looking for DJ's to work events such as weddings, and birthday parties, and nightclubs.
17. Gardening
Do you have a green thumb and a love for plants? Like landscaping, people are always looking for someone to help them around the garden when they don't have time. 
And often, gardening jobs pay well, and pay Cash. 
If this job isn't something you want to commit to all year round, this can be a seasonal job as well!
18. Help People Move
Are you healthy and looking for a good workout? Help people move! 
People are always looking for an extra set of hands to help them load and unload furniture during a move, so why not offer your services to those willing to pay for them! 
This is by far one of the easiest ways to get paid Cash for the day. Check out Facebook Marketplace and Craigslist for job offers today!
19. Tailor / Sewing
If you excelled at sewing in high school, then I am incredibly jealous of your abilities. 
From simple alterations to fixing zippers on clothing, people are always looking for talented individuals to fix simple clothing problems. 
You should consider making some extra cash doing this! 
20. Pressure Washing
Have you ever watched satisfying pressure watching videos online, or am I the only one? 
Seriously pressure washing is the perfect way to make money under the table – especially in the summertime! 
People are always looking for others to spruce up their outside patios and deck before the weather gets nice, so this is definitely a job you should consider! 
You can determine your pay rate, and easily rent a pressure washer from your local hardware store for cheap if you don't have one. 
Set up flyers in your neighborhood or check online to see if people are looking for someone to hire!
21. Baking
Cakes, cookies, cupcakes… I'm getting hungry just writing this! People love purchasing homemade baked goods for special occasions. 
If you're an avid baker, then it's time to start making Cash for your talents! 
Depending on the size of the order, you can make some decent under the table money. 
Not to mention that people are always celebrating something, so you will never be out of business if your baking is fantastic.
22. Editing and Proofreading
Suppose you're a student looking to make a little extra money on the side. In that case, you should definitely start charging other students' money to edit and proofread their assignments. 
Desperate students are willing to pay others to help them boost their assignment grades, so why not help them make some extra cash on the side!
23. Re-Sell Items You Find at the Thrift Store
If you have an eye for detail and are a real research junkie like I am, re-selling rare vintage items that you purchase at the thrift store to people on Facebook MarketPlace or Craigslist is the perfect job for you. 
Suppose you are willing to put in the time and effort into searching through racks of clothing and shelves filled with abandoned items at the thrift store. This is a great way to make Cash under the table. 
Final Thoughts
Congratulations, you've made it to the end! 
There are so many fun and exciting jobs that pay under the table. If you know how to hustle in the right way, then getting jobs that pay in cash is always a bonus when making money on the side. 
Remember to check online websites like Facebook and Craigslist as people are always posting jobs that pay under the table. You might just hit the jackpot with a job you love! 
Remember to keep an open mind, and don't settle for something you aren't totally excited about! You never know what jobs you'll come across!
On a side note, remember that I do recommend reporting on your taxes for all jobs that you take on during the year. 
Still, a little job here and there to earn some extra cash never hurt anyone. Just make sure to follow the laws in your area to avoid any trouble!
Until next time my friends. Signing off!
Read More: How To Make Money As a Kid: 40+ Easy Ways to Try!