3 Ways to Make $300 This Weekend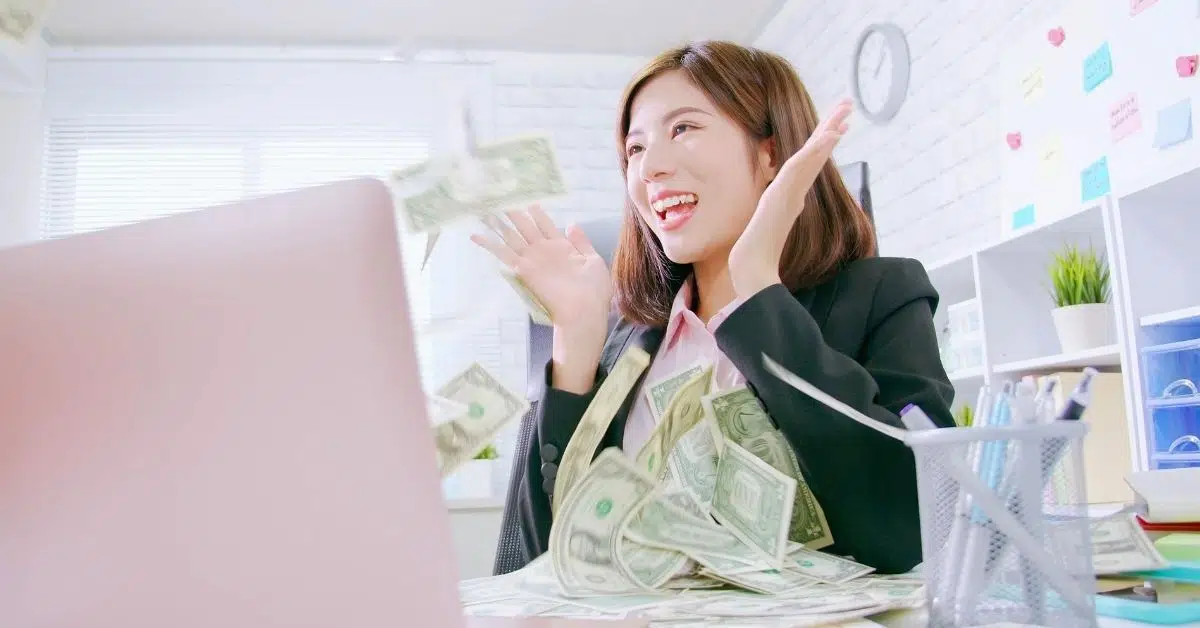 When I got serious about getting out of debt, I tried just about everything to make extra money. But we had so much debt! Our income barely covered our minimum monthly payments. So, I did a Google search for best weekend jobs for extra money.
I tried everything from surveys and getting paid for watching videos to data entry and starting my own side gig.
What I learned right away is there are a lot of scams out there. Some are legit opportunities, but the amount of work you have to do to make a buck is insane.
If you're looking for ways to earn extra money, here's my "try it before you buy it" review on how to do it.
Note: This post may contain affiliate links, which means if you buy from my link I might make a small commission. This does not affect the price you pay. See the full affiliate disclosure

 

here.
Use your Skills to Make Money Online
Everyone is good at something. And someone – whether it's a business or another person – is willing to pay for your skills and talents.
Fiverr
Whatever you're good at, you can make money on Fiverr. Earning money doing tasks like data entry, research, graphic design, spreadsheets, voice-over artist, website tester, proofreading, and so much more can add up to hundreds (and thousands!) of dollars.
Now, in all fairness, I have to tell you that I've never sold anything myself. But I do hire people from the site quite often. I hired a designer on Fiverr to make a monthly budget download! She did great work, and I've hired her for a few other projects, too.
The downside is that it takes two weeks to get your money after you finish the project. But it can transfer to your bank account or PayPal, so that part is easy.
Work as a Virtual Assistant on the Weekend
Businesses hire VAs to manage their blog, do bookkeeping, respond to emails, manage their calendar, run social media business pages, and more. There are so many opportunities! And there's no limit on what you can do as a virtual assistant.
I do VA work as part of my freelance writing business, and it's really simple. If you're looking for a side gig to make money, this could be it. Most of the communication is through email, which is great because I don't like talking on the phone.
My friend Kayla has a really great course that I took to help me get started. In her 10kVA course, she walks you everything you need to know and shows you how to get started.
Get Paid to Write
Freelance writing is where the majority of my income comes from. You can write blog posts or articles for magazines and newsletters. If you're half-way decent at it and can hit your deadlines, there's a potential to earn a lot of money.
I stumbled into the idea of getting paid to write by accident and my life has never been the same. Starting as a side-hustle, I wrote in the evening and on weekends because I was working 40+ hours a week at a "real" job. After just a year and a half, I transitioned to doing it full-time. And let me tell you that earning money while working in your pajamas is a pretty sweet deal.
To get the best start, I highly recommend taking a course. The absolute best one you'll find is Freelance Writer Academy. Taking a course is exactly what I did to take my writing from $40 or $50 a month to over $5,000.
For more info, I wrote a post about how to become a freelance writer. Or you can head straight to the Freelance Writer Academy course to jump start your writing career.
Make Money with Online Surveys
Online surveys have a terrible reputation, I know. But you really can make money if you take surveys online. I've earned the most money with Swagbucks and Survey Junkie, but InboxDollars is a good option, too.
Swagbucks
I've made the most money with Swagbucks and highly recommend this site for paid surveys. You earn points for answering questions and only need to accumulate $5 to cash out.
My favorite part is trading my points for gift cards. We love going out to eat but it's expensive and can throw our budget off track. Instead, I cash in my Swagbucks points for restaurant gift cards. But there's something for everyone, and you can get gift cards for Amazon, Walmart, Target, Game Stop, and more.
Or if you prefer cash, you can get paid with PayPal and spend it however you'd like.
There's a website you can access to take surveys, but probably the coolest part about Swagbucks is their mobile app. You already carry your phone everywhere, and now you can make money waiting in line at the grocery store, at soccer practice, or from the comfort of your home.
Survey Junkie
Survey Junkie is another popular survey option where you can earn money. The surveys are short and only take one to three minutes each, so there's a minimal time investment.
You can get surveys sent to you that you don't qualify for, and that can be frustrating. You usually find out pretty fast if you don't meet criteria, which means you can quickly move on to the next survey.
The payout threshold is only $10, and you can cash out with PayPal or trade your points for gift cards to your favorite stores.
Get Paid to Clean Your House
Cleaning isn't something I enjoy. But if you put in a little time, you can make money cleaning your own house.
Cardpool
Ever get a gift card for Christmas that you know you'll never use? Or maybe you have a few in your wallet but need extra money? Either way, you can trade that gift card for cash with Cardpool.
You won't earn the full value of the card you sell, but they promise up to 92%, so it's still a pretty good deal. It has better ratings than some other sites you can sell gift cards on, like CardCash and Gift Card Granny.
Your payout comes from a check you get in the mail or an Amazon gift card. And since you can get about 6% more from cashing out with a gift card from Amazon, this is the way to do it.
Sell your unused gift card now.
Decluttr
Decluttr dedicates themselves to helping you organize your house and get rid of your unwanted stuff. It's better than consignment because you don't have to wait to get the money. You send them your extra things, and you get paid cash the day after they receive it.
If you're looking for quick money and want to sell CDs and DVDs, video games, cell phones, tablets, textbooks, Legos, or a ton of other items, Decluttr is for you.
Get cash for your unwanted stuff.
What Do You Have to Lose?
If you're short on cash, it doesn't take much time to earn a few extra bucks. From the comfort of your couch, you can make money with Survey Junkie or by cashing out your gift cards with Cardpool. For a long-term income opportunity, you can start writing or working as a VA on the weekends.
It makes excellent use of your time and helps get to your savings goals. Whether you're looking for help paying off debt, extra money for a vacation, or to pay cash for a new car, you can get paid for your spare time this weekend.