10+ Side Jobs For Nurses To Make Extra Money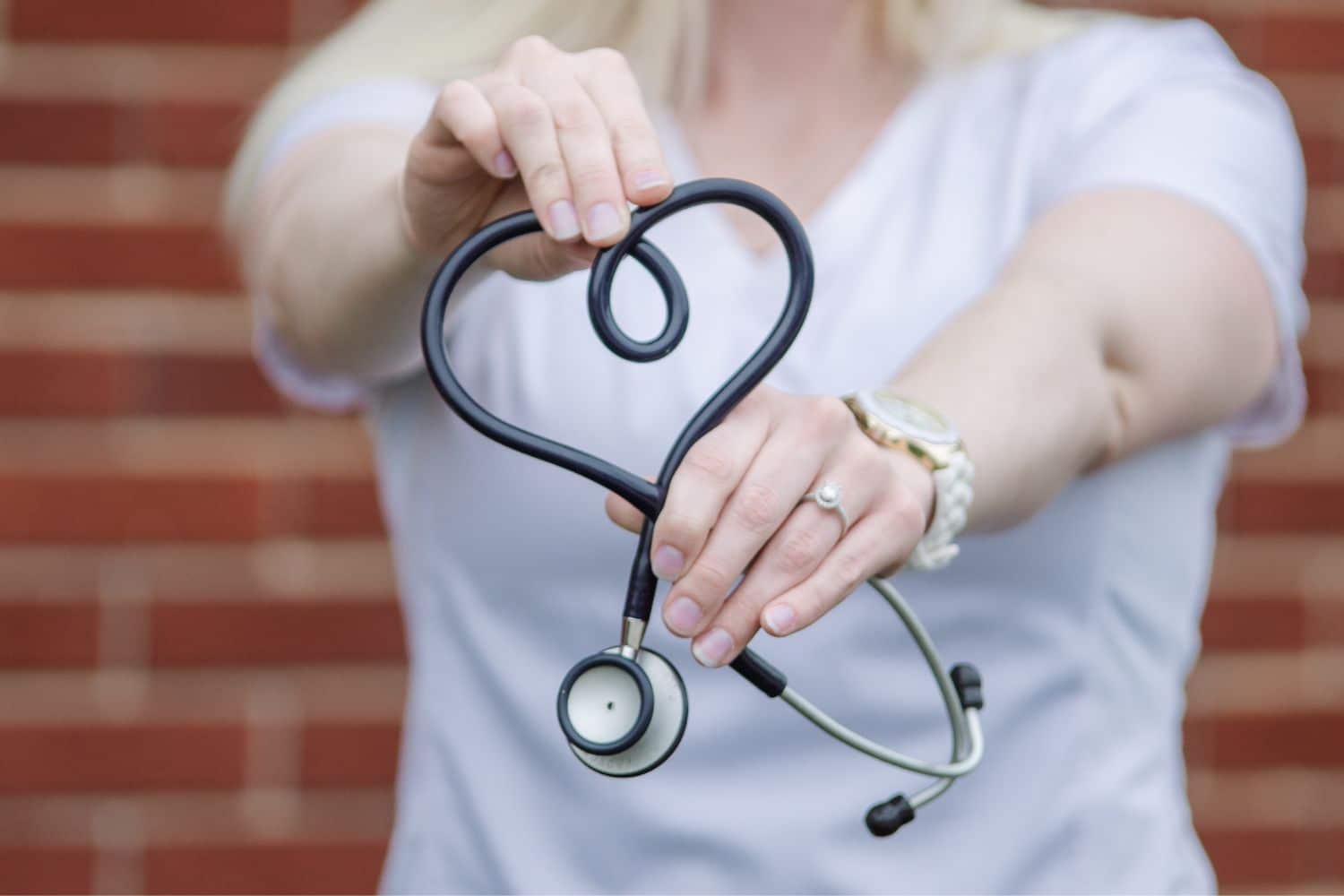 Are you a nurse looking for some extra money on the side when you are not working at the hospital or clinic? If you answered yes, then you have come to the right place! Today we are going to be talking all about side jobs for nurses.
If you are interested in finding out more, stick around for a while because we will go into full detail today to help you guys out! Take a seat, grab a snack and let's get right into it, shall we? 
The Best Side Jobs For Nurses 
Before we go into details about best side jobs for nurses, let me start by saying you guys deserve the world. I cannot imagine what you have all been going through throughout this pandemic. So, thank you!!
All of you are superheroes, and your work and passion for helping others are not going unnoticed. 
Note: This post may contain affiliate links, which means if you buy from my link I might make a small commission. This does not affect the price you pay. See the full affiliate disclosure

 

here.
Okay, now let's get into the best side jobs for nurses, now shall we? 
1. Become a Freelancer 
One of the best side jobs for nurses is freelancing! Depending on where you work and what your days look like, where I'm from, nurses typically work 4 days on and then 4 days off. However, this may change from country to country.
That being said, whatever your schedule is, freelancing is a fantastic way to begin making money on the side. Websites such as Fiverr and Upwork allow you to set your profile up for free and then start to work in your niche immediately.
Whether it's graphic design, writing, voice-over acting, music, website development, transcription, proofreading, the options are truly endless.
Website such as Fiverr and Upwork is an excellent choice for nurses because they get to pick their hours, determine how much work they get, and can make a decent wage on the side!
The nice thing about freelancing is that you can stay at home cozied up on your couch with a coffee cup in your hand. 
Related: How to Get Freelance Clients: 13 Proven Ways To Land More Clients
2. Blogging 
Blogging is another fantastic side job for nurses if they are looking to build something long-term! Whether it be talking about their life as a nurse or something else, blogging is a great way to meet people and talk about your experiences.
It is also a great side gig for nurses because they can blog on their time off, they don't need to leave the house to blog, and it is most likely going to pay off in the future if they stick with it!
It will soon become a great way to make passive income, which is always a fantastic bonus if you ask me! 
3. Health Coach 
Becoming a health coach would also be a great side job for nurses because of their knowledge of health and experience. People are always looking for others to help coach them on their journey to optimizing their health and fitness!
You can offer private or group coaching and provide them with worksheets and goal-making templates to help them along their way to self-love and health!
People who coach others also tend to make a lot of money, so if you are looking to make big bucks, then definitely try this one out! 
4. Sell Your Nursing Notes 
Did you ace nursing school? This may be the perfect opportunity to help other nursing students and make money as well.
I see lots of other nurses creating note pages and tips for nursing students to purchase to help them when they are in school and when they are on the job.
The great thing about this is that it is a fantastic way to make a passive income once you have written out and perfected all notes.
You can even sell tutorials and explainer videos as a course to make more money on top of that! Seriously you should take a look at this. It will pay off! I promise! 
5. First Aid Instructor 
A first aid instructor is also a good option for nurses to do part-time. You already have the certifications to teach first aid, so why not make a little extra income when you are not on the job?
The nice thing about being a first aid instructor is that you will probably only have to work a couple of days a month, and the rest you can have relaxing and spending time with your family! It's the perfect scenario! 
6. Caregiver for Children or the Elderly 
Taking care of children or the elderly would be perfect for nurses because their job role is already to take care of others so that you would feel right at home.
You can provide a daycare service on your days off or become an at-home care provider for the elderly and help them with their daily tasks as they get older. Both options are so fulfilling and make such a positive impact in their lives! 
Related: Best Jobs That Help People and Pay Well
7. Medical Transcriptionist 
There are so many job opportunities for nurses who wish to become part-time medical transcriptionists. The nice thing about doing this job part-time is that you can work from home.
Your job will be to listen to medical reports and type them up and transcribe medical voice notes and other videos for medical professionals.
The only downside to this, or should I say, the requirement is that you will need to get your medical transcriptionist certification before you are deemed qualified to do the work.
All in all, this can make you a decent amount of money on the side when you aren't working as a nurse, so definitely check this one out! 
8. Open an Etsy Store 
This side job is perfect for nurses who have a hobby they like to do that involves baking or making art! Do you want to create art or bake to destress from your job when you are off work?
If you answered yes, then why not begin selling your art and baked goods! Etsy is a great platform to start making money and is super reliable!
If you prefer to do your selling in person, you can always put up posters around your community or get your co-workers to show their support as well!
All in all, this is an excellent gig for nurses who would like to relax and make money at the same time. 
9. Medical Coding 
This one sounds very sophisticated, and it sort of is. However, if you are familiar with medical coding, then this job will be perfect for you!
Medical coding requires you to classify medical conditions and diagnoses and then match them with the correct medical code for insurance and billing purposes.
This job is excellent for nurses looking for a challenge; however, it is backbreaking work, so if you are looking for something a little bit more laid back, I don't blame you. 
10. Seasonal Flu Shot Aid 
Clinics are always busy during flu season as millions of people get their yearly flu shot, which means that many clinics in your area typically get extremely busy during the winter season.
Therefore, if you wanted to help out with immunizations, this would be the perfect opportunity for you!
Because you are already experts in immunizations, you would not require any extra training to do the job, and you could make some extra cash on the side! It seems like a good idea to me, don't you think! 
11. Nursing School Tutor 
Again, this is for all my nurses who did well in nursing school and feel as though they would teach others their extensive knowledge!
If you love helping out others, why not help out nursing students study for the exams? Nursing school is not easy, so many students turn to hire tutors to help them understand the topics better.
Therefore, this is the perfect opportunity for nurses looking to help future nurses and make money on the side! Depending on your years of knowledge and what type of nurse you are, you can typically charge up to $100 per hour to help students.
Tutor a couple of students throughout the day on your days off, and boom, you will be rolling in the cash flow in no time! 
12. Become an Uber or Lyft Driver 
Rideshare is the perfect side job for all people, including nurses! The nice thing about driving for Uber or Lyft is that you can choose your hours, and you can make up to approximately $25 per hour going other people to their destinations!
If you are looking for something more laid back, then this is the perfect solution for you!
You also need to have your full driver's license and a clean driving record, which is a bonus as there are no other extra requirements. 
13. Nursing Adjunct Instructor 
This is for my nurses that are interested in teaching part-time! A lot of nursing schools will hire nurses to teach a class during the semester.
You can now teach a class every semester or guide semesters when they need someone to fill that teaching position. Often, you will help students during their lab work and teach them hands-on how to do their nursing responsibilities.
This is an excellent job because not only will you only be teaching maybe once or twice a week at the most, but the pay is also highly competitive, which means you will be making sweet cash on the side, which is definitely a bonus if you ask me! 
14. Buy and Resell Items 
Last on our list today; we have to buy and sell items. This is one of the newest ways that people have decided to make money from themselves part-time or as a full-time gig –and rightfully so!
Seriously, if you haven't heard of buying and flipping items, then prepare to be amazed! All you have to do is go to your local thrift store and look for items that you think may be worth reselling online.
To check if the thing is worth anything or not, all your need to do is type the product into eBay and see if anyone else on the website is already selling that item or something similar to that.
Now to determine if selling the item is worth it or not, all you have to do is see how much the store is selling the item and compare it to what people are selling it online for. If the difference meets your standards, then go ahead and start selling it!
Depending on the item, you can typically earn anywhere from a couple hundred to a couple thousand a month just by reselling items.
I know it seems too good to be accurate but trust me, it's not! Some things that would be good for you to sell are: 
Electronics 
Antiques 
Collector's items 
Furniture 
Appliances 
Music records
An alternative to selling used items is going to the clearance aisle of your local grocery or department store and buying bulk commodities such as blenders, toasters, cleaning supplies –you name it!
If the items are on sale, then pick up a couple and sell them brand new for the original price on Amazon! 
Final Thoughts 
As you can see, there are so many incredible ways that nurses can make money on the side when they are not working at the hospital or clinic.
All these jobs are relatively easy to acquire and, for the most part, are easy to maintain on the side when you are busy with work, family, and everyday life!
If you are a nurse who has a side job, leave a comment down below and let us know what your side gig is, and if you have any tips for readers that you would like to share! We would love to hear from you! 
Until next time –thank you for stopping by! As always, it has been an absolute pleasure!
Read More: 20 Low-Stress Jobs for People With Anxiety