13 High-Paying Weekend Jobs for Teens & High School Students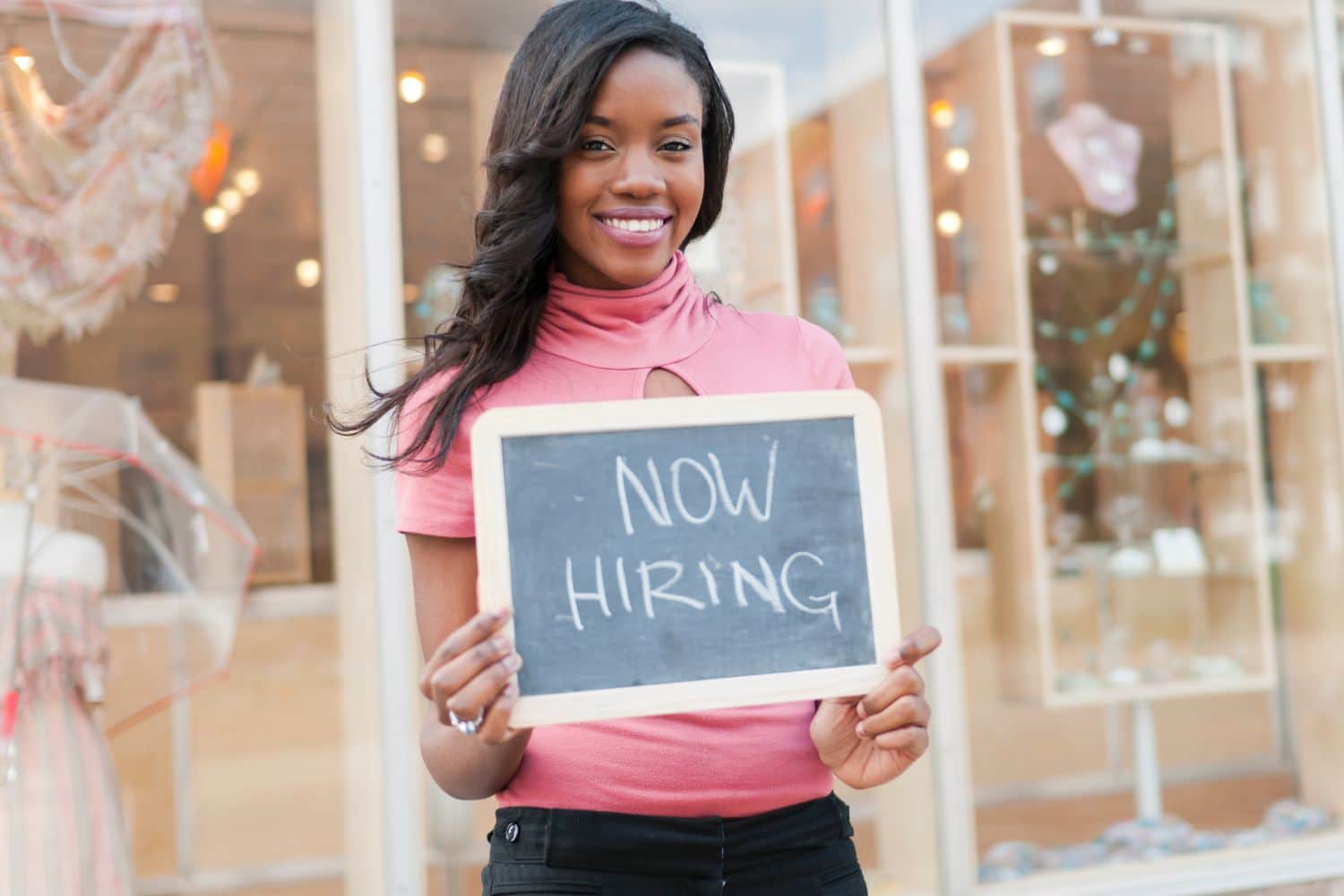 Look, we've all been there.
Being a teenager is stressful enough without worrying about making your own money while juggling schoolwork and maintaining a social life. 
And I'll be first to say it, relying on your parents for cash isn't as fun as it may seem. 
And if you're anything like me, you're probably wanting to work a job that pays well without having to work long hours.
Note: This post may contain affiliate links, which means if you buy from my link I might make a small commission. This does not affect the price you pay. See the full affiliate disclosure

 

here.
Well, lucky for you, you've stumbled across the right page. 
I've compiled a list of the best weekend jobs for teens that pay well and are versatile enough that everyone will find at least one job option on this list. 
Buckle in teens; it's time to get started.
1. Love Food? Become a Host/Hostess 
Are you an extrovert? 
Do you love working with others in a lively environment? 
If you answered yes to either of those questions, then becoming a host at a restaurant may be the job you've been searching for! 
This job is excellent for all teens, as most restaurants don't require you to have any previous work experience.
When you're first starting off, your wage can range anywhere from $11.50 to $13.50 an hour. 
However, a lot of restaurants give raises every 3 to 6 months. Just make sure you're the bubbly personality guests meet when they come through the door. 
And for the most part, your primary duties will be to usher guests to their assigned tables and strategically plan out where the next group will be seated. 
Oh, and did I mention that one of the many perks of this job position includes flexible hours (which is why it is one of the best weekend jobs for teens), discounts on food, and the best perk of all: cash tips. 
That's right, you heard me. Cash money!
Restaurants are required to tip out all support staff every night. So, depending on how many hours of work you put in, you can come home with an extra $50 to $100 every weekend! 
It's so amazing it almost sounds too good to be true. But trust me, it's legit.
2. Caffeine Lovers Being a Barista is the Job for You!  
Ah, the sweet, sweet aroma of freshly brewed coffee. 
Why wouldn't you want to work at your local Starbucks? 
This job is one of my favorite weekend jobs for teens out there. Not only do you get to work with other coffee-lovers, baristas typically make anywhere from $14.00 – $15.00 an hour – plus tips! 
This job is perfect for teens that are sociable and work well under pressure. The only not-so-sweet aspect of this job that I should probably mention is that you may be asked to start early in the a.m. 
Lucky for you, the free unlimited coffee and complimentary lunch should be able to make up for it!
3. Good with Kids? Become a Babysitter
Babysitting is another great weekend job for all teens. 
Getting paid to watch movies and eat unlimited snacks while the kids are sleeping – sign me up! 
Depending on the family you babysit for, most of your job duties will be to play with the kids for a couple of hours and get them ready for bed at the end of the night. 
After that, you're free to relax until the parents get home. It's really that simple. 
If you love kids and are willing to entertain them for a couple of hours, this is the job for you. Although there is no nationwide certification that babysitters are required to complete, it may be a good idea to take a course in your community just to be on the safe side. 
Babysitting is a great gig to work because a lot of the time, parents are willing to pay anywhere from $50 – $100 a night (or more) just so they can have a couple of hours away from their kids. 
It really doesn't get much better than this! 
Read More: How To Make Money As a Kid: 40+ Easy Ways to Try!
4. Become a Food Delivery Driver
Did you just get your full license? 
Want to show off your sweet new wheels and pay for your car insurance? 
Why not get a job as a food delivery driver! 
Whether it be for a restaurant or a food app such as Uber Eats or Skip the Dishes, food delivery drivers can make anywhere between $20.00 – $25.00 an hour plus tips. 
An added bonus is that you can choose your own hours, and most places will help pitch in for gas as well. 
This is one of the perfect weekend jobs for teens who want to dip their toes into the foodservice industry before diving headfirst. 
Delivery drivers are responsible for picking up the customer's food and delivering it to their door while the food is still hot!
5. Fashionistas? Why Not Become a Sales Associate? 
If you love clothes and people, this job is the one for you! 
Retail employees can make anywhere from $12.50 to $15.00 an hour. Not to mention all those crazy discounts on all the latest in fashion!
Depending on which retail store you work, some clothing stores have their employees work on commission. Meaning the more you sell, the more cash you make as a bonus. 
Working in retail is perfect for teens looking for a flexible schedule, looking to grow their people skills, and did I mention discounts on clothes! 
If you're looking to be kept on your toes for your entire shift, you should defiantly consider retail. You'll have a hand in assisting customers, cleaning the stock room, and selling products on the floor. 
Perfect for making money and burning calories! 
6. Love Movies? Why Not Become a Movie Theatre Cashier? 
Raise your hand if you're a movie fanatic who loves the smell of freshly popped popcorn (if you couldn't tell, both my hands are up right now). 
The great thing about this job is that they hire people without previous experience and looks great on a resume! 
This weekend job is perfect for teens who are organized and willing to work in a high paced atmosphere. 
Some of the tasks you'll be required to do are:
Stocking the shelves with more candy (try not to eat all of it at once),
Punching in orders,
Making fresh batches of popcorn, and
Taking payments for tickets.
Cashiers usually make anywhere from $12.00 – $14.00 an hour, depending on where you live. 
As a movie theatre employee, you can expect some sweet job benefits such as flexible hours and discounts on movies and popcorn. As if you needed another reason to go apply for the job! What more could you ask for! 
7. Baywatch 2.0: Become a Lifeguard 
I want you to imagine Zac Efron in Baywatch for a minute…Okay, now back to reality (don't forget to wipe your drool).
But seriously, becoming a lifeguard at your local pool is one of the highest paying weekend jobs for teens there is! 
Lifeguards can make anywhere between $15.00 – $20.00 an hour. How incredible does that sound?
This job is perfect for responsible teens, work well in stressful situations, and are strong swimmers. 
Trust me, becoming a lifeguard can take a bit of time and require your first aid training. But in the end, this job is perfect for teens who aren't wanting to work conventional jobs while in high school.
Read More: How To Make Money As a Kid: 40+ Easy Ways to Try!
8. Calling All Copywriters 
Are you a naturally talented writer? 
Do you prefer staying in your comfy clothes for most of the day? 
If the answer is yes, then this job is incredibly perfect for you! 
Copywriters can make anywhere from $20 – $25.00 an hour when first starting out. 
Online platforms such as Fiverr or Upwork allow you to create writing gigs and make money in as little as an hour upon creating your profile. 
One of the benefits of working as a freelance writer is getting to pick your own hours and work from home. Sign me up! 
Businesses are always looking for talented writers to create blog posts, press releases, and website content. 
Once you're more experienced, you can start charging more for your writing skills. You'll never be out of work!
9. Open an Etsy Store – It's Worth It! 
Calling all creatives and young entrepreneurs! 
Whether you're selling your artwork or custom clothing, if you want to make the big bucks by starting your own business, Etsy is the platform to use. 
This job is perfect for teens willing to put in the time and research into building a successful e-commerce store. 
Although it may take a lot of dedication and hard work to get the ball rolling, the end results are defiantly worth it. 
Make sure to do your research and promote your product in a meaningful way to get customers to buy what you're selling! 
One of the significant aspects of having an Etsy shop is that you can determine your products' price, and you get to work from the comfort of your own home.
10. Through Sunshine and Rain: Become a Landscaper 
If you're searching for manual labor and love being outside in the fresh air, this is the job for you.
Whether you're working for a landscaping company or on your own, landscapers typically make anywhere between $13.50 – $20.00 starting off. 
Typical duties include cutting grass, trimming bushes, and planting new plants. One of the excellent aspects of this job is that it's all season! 
While most of your work will be during the spring and summer, a lot of landscaping companies will hire you during the winter to shovel snow as well. 
This job is one of the perfect weekend jobs for teens who are okay with getting their hands dirty and working in different climate environments. 
11. Attention Animal Lovers: Become a Dog Walker 
Seriously who doesn't love dogs? 
Being a dog walker is the perfect weekend job for teens who are animal lovers and who don't mind getting in a couple of extra steps now and then! 
Dog walkers can make anywhere from $13.00 – $18.00 an hour depending on where you live, plus tips if the pet owner is generous! 
A great thing about this job is that you can make your own schedule and take on as many clients as you want. 
12. Love Golf? Become a Golf Caddy 
Getting a job as a golf caddy is the perfect weekend job for teens passionate about golf and are looking for a job that often requires you to work in the heat. 
A golf caddy's main job is to carry the player's golf clubs around the course's entirety as they play the 18 holes.
On average, golf caddies can make anywhere between $20.00 – $30.00 per hour. 
But truth be told, that's doesn't even compare to the number of tips you'll receive from wealthy players who are happy they didn't have to lug around a 30-pound bag for four hours!
13. Smarter Than Most? Become a Tutor 
Calling all intellectual teens! You're going to want to pay attention here. 
Have you ever been really good at certain subjects? 
Why not hone in on your natural talent and tutor children younger than you in school? 
You know what they say, helping others learn makes you smarter and is the perfect weekend job for teens who are looking for some extra cash!  
In all seriousness, becoming a tutor can pay you serious bucks. Don't believe me? 
Well, you'll be pleasantly surprised to know that tutors can make anywhere between $20 – $30 an hour and can go as high as $50 an hour, depending on your skill level.
Last Words Before You Go 
There you have it, the perfect list of weekend jobs for teens out there. 
If you've made it this far then, you should be feeling a lot more at ease when it comes to finding a high-paying weekend jobs while you're at school (fingers crossed). 
If there's one piece of advice that I could give you that I wish I was told when I was looking for my first job, keep an open mind, and don't be discouraged if you don't get hired first place you apply. 
You got this – don't stress!
Are you an introvert and enjoy working alone? We have do you covered. Check out Best Jobs for Introverts Where You Work Alone.