Top 13 Online Work at Home Jobs that Pay Daily [Legit]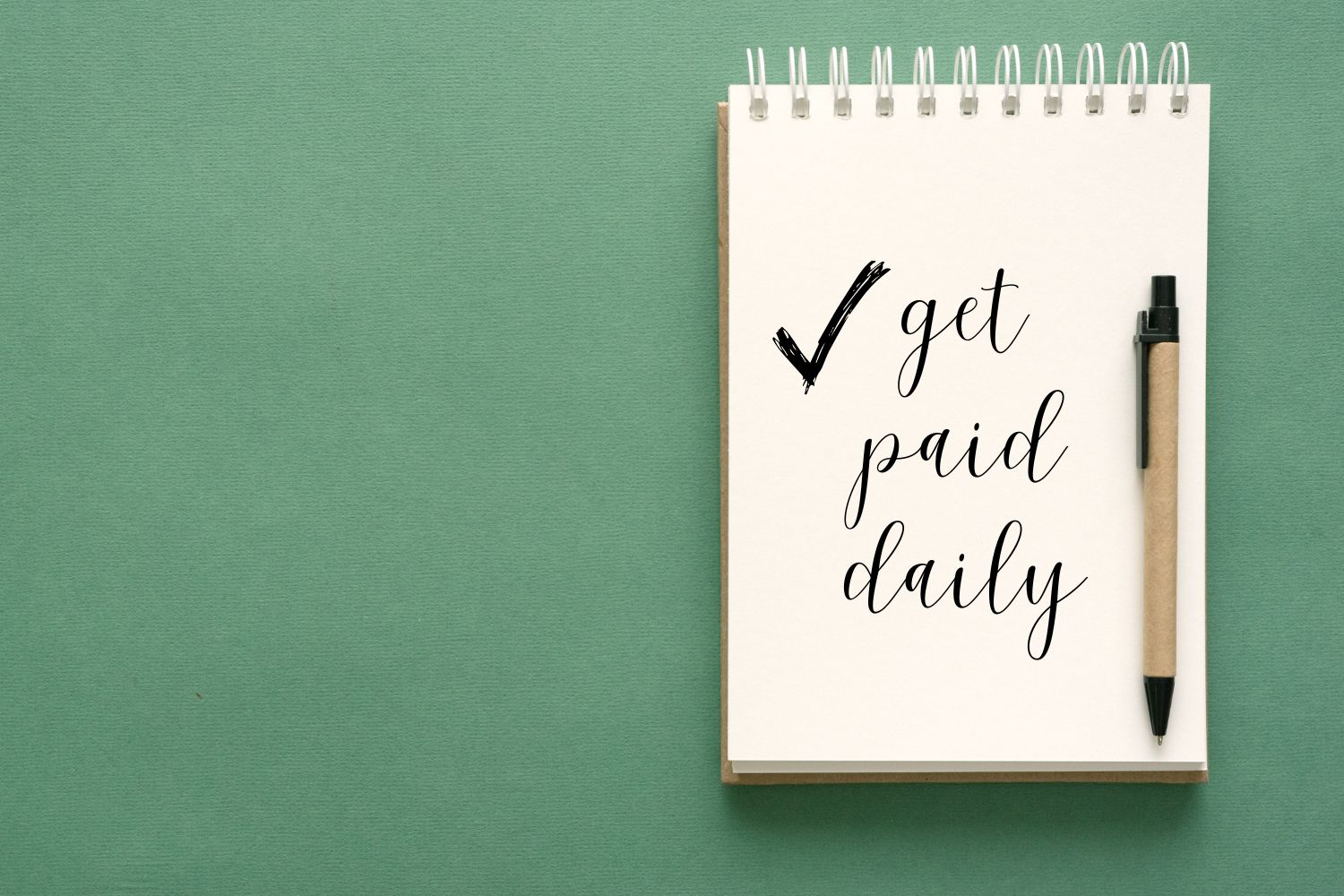 Working from home is amazing. You have the comfortability of setting your schedule and creating a life on your terms.
In traditional job settings, you can get paid every two weeks. In some job settings, you can get paid once every month.
Imagine this… you can get paid to work from home, but here's the catch.
You're paid out daily! 
Note: This post may contain affiliate links, which means if you buy from my link I might make a small commission. This does not affect the price you pay. See the full affiliate disclosure

 

here.
Given the times we are in it's nice to have money now vs later. You might have an emergency come up or you need an extra $100 fast! 
Keep in mind, most of these work at home jobs that pay daily require a PayPal account that's verified. So if you don't have one, get one stat!
Only legitimate companies can work with PayPal so your payments will be protected. 
Keep in mind that these work at home jobs that pay out daily, but some of the payouts as quickly as you work.
In short, if you want your money faster then you must stay on top of your work. 
Below is a list of legitimate jobs you can do all from the comfort of your house, plus… no more waiting for payment two weeks later. 
1. Fiverr
Fiverr is a platform for freelancers to offer their services to customers. These customers could range from your own home country to countries across the world. 
You can create "gigs" that allow you to share your talents and you can get paid for them. Some examples could be writers, graphic designers, voice-over artists, and website builders. 
Fiverr has countless options for you to take your gifts and monetize them. But what's the best part about Fiverr?
Well, you can get paid the same day. (Now, this does depend if you can complete the tasks on the same day, but still… it's incredible to know your money is sitting there waiting for you once you're finished!) 
You can check out Fiverr for more work from home options! If your work is quick and efficient… enjoy same day payouts! 
Head to fiverr.com to create your account and start selling! 
2. Upwork
It's important to put Upwork on this list because you can enjoy same-day payment as Fiverr does.
Yes, it's possible to get more work on Upwork because you can pitch your gigs and offers to customers.
In contrast to Fiverr, you'd have to wait for gigs and offers to come to you. So with Upwork, there is an opportunity to make even more money. 
At Upwork…the buyer has to put the money in a holding account to place an order for your services. This means, as soon as you're finished with your work and they approve it… you get paid out! 
Check out www.upwork.com and start pitching today! 
3. Gigwalkers
This is a cool app that you can download to find "gigs" in your area that need completion. While some of the gigs require leaving your house, there's plenty of gigs to do from home. 
What's great is the pricing can range from $3-$100. Some of them take a couple of hours to complete, and some only take a few minutes to finish. 
Once you complete the task you're paid out immediately. You must have a PayPal account to receive payment upon sign up. 
From there, you can direct deposit your PayPal funds straight into your account. Hello, same-day payments! 
So if you want to earn extra money, have a working phone and PayPal… get started at www.gigwalk.com 
4. Crowdsource 
This is an amazing online directory. They connect companies with skilled freelancers to get their tasks completed.
If you know copywriting, tech, data entry, or transcription… then check out this website. 
The work is quick and short and as you complete tasks daily, you get paid out daily. It's important to note that workers must complete training.
Without training, they can't complete tasks. This ensures that all workers are producing quality work. Plus! It weeds out all the scammers. 
Create a profile at www.crowdsource.com today and get started! 
5. Qmee 
Qmee is a top (and legitimate) survey app. This website has rave reviews that will pay you cash for taking surveys. They also provide a means for you to get paid for online shopping as well. 
This is great for making some quick cash with little to no experience. The great thing about this app is that the surveys and tasks are very simple and don't require much thought process to complete. 
This is a great way to earn money with not very much effort. 
All you need is a computer or phone to download the app and get started at www.qmee.com today! 
6. Slice The Pie
This is a legitimate website where you can earn money by sharing your opinion. 
At Slice The Pie they do offer same-day payouts, which is great! But there is a catch. You must have a minimum of $10 in your account to initiate the payout.
This is because it can cost the companies money to do payouts and so it's only worth it to them with a minimum amount. 
When signing up, your email must match your PayPal. Both emails must match otherwise you won't be able to receive your payments. 
On their website, it talks about how the quality of your reviews dictates how much money you make. So if you only give a few short words for an answer… your balance will look very depressing. 
Take pride in the answers you give and your account balance will reflect that! 
Head to www.slicethepie.com to create an account and get started today. 
7. Scribie 
Ever see words on a screen and wonder how they got there? What about closed captioning or subtitles?
That's the handy work of being a transcriptionist. At Scribie… you can earn up to $25 per AUDIO hour. 
This means the faster and more efficient you are at transcribing, you can earn more money. 
You must have a verified PayPal account to receive payouts within 24 hours of completion. 
A few important notes to become a transcriptionist. You must be able to produce the work within 2 hours. The audio clips are under 10 minutes so it's not that hard to finish within that time frame. 
This website is fantastic because they provide a "free automated transcript". This saves you around 60% of typing effort… making it easier for you to earn money! 
Head to scribie.com for more information! 
Read More: Best Paying Micro Job Sites To Make Money
8. UserTesting 
Want to get paid to share your experiences and opinions?
This platform is a legitimate website that pays you $10 per 20-minute test taken. Which means you could earn over $30 per hour all while wearing your pajamas! 
Big brands need you to try out their services and interfaces and you can get paid out daily to do so. 
On their website, it states you can get paid the day you complete the tasks. But sometimes it can take up to seven days for the funds to clear from PayPal. 
 Head to www.usertesting.com. When you click on the "Get Paid To Test" tab you'll be able to create a free account and get started. 
9. Paid Viewpoint
This is a legitimate site where you can get paid out the same day. Don't let the dark background on the website spook you out… this website is a favorite amongst survey takers. You can earn money by taking surveys and sharing your experiences. 
What's cool about this website is you can get paid to sign up. Most websites make you work before you see the money. This website will pay you just for signing up… sounds like a winner already! 
As always, you must have a verified PayPal account to be able to receive payment. 
If you head to www.payviewpoint.com to create your account and start making some extra moolah! 
10. 1Q
Do you like answering questions? This is a great opportunity to get paid to give answers to the big brand's questions and share your opinion. 
The purpose of this app is to provide big brand companies with the appropriate information they need to grow their business. 
You can download the app at 1Q and answer questions for brands right from your phone. 
When you respond to questions you immediately get paid via a verified PayPal account. 
A cool feature about this company is they have a giveback option.
If you're feeling charitable then you can choose to donate the money you earned. 1Q has a list of companies you can choose from to donate to. 
Head to www.1q.com to get started today! 
11. dscout
This is a cool app where you can be an influencer to big named brands and share your opinions and experiences. 
You can use your smartphone to share your perspective with industry leaders— and get paid! 
On their website, they talk about paying out their Scouters "handsomely". They have awarded them over $7 million so far and if you want to join the team then get started at www.dscout.com today! 
Oh, and they pay "promptly" on PayPal as well! Make sure to sign up with the email that matches your PayPal otherwise you won't be able to receive your commissions. 
Check out www.dscout.com right now and create your account to get started on making some dough! 
12. JVZoo 
This platform is an affiliate marketing space where you sell other people's products, earn a commission, and get paid! 
JVZoo is known for its credibility and same-day payouts. You can get paid out via check as well, but in case you're not into snail mail… PayPal will have to do. 
With affiliate marketing, it's helpful to have an audience but don't stress if you don't have a huge following or a long list of subscribers. 
A general rule of affiliate marketing companies if you want to share products that you genuinely love. 
You can share products and services you're passionate about through JVZoo and get paid. And I mean PAID! 
Top earners in affiliate marketing on these sites can earn millions of dollars per year. And their payouts are daily. Let that sink in. 
Check out www.JVZoo.com for more information! 
13. Warrior Plus 
This is another great affiliate marketing opportunity to share products and services. When you share them with potential buyers, you get paid a commission! 
While not every single product on this website allows an instant daily payout… countless ones do! 
Here's a good trick to commissions and affiliate product payouts. Choose products like digital courses or non-returnable items. Why? With some products, they offer a 30-day money-back guarantee/exchange window. 
This means you have to wait 30 days to receive your commissions. But since this list is for same-day payouts then you want to choose products that don't have exchange windows or money-back guarantees. 
It might take a bit of digging, but there's plenty of products on this site to choose from so you can receive commissions more quickly. 
What's amazing is they have a directory of the top best selling products too! 
Per usual, you must have a PayPal account to receive your payouts. 
Like JVZoo you will be able to earn hefty commissions in the event people buy the same day you want to get paid. 
Head to warriorplus.com and click on the "Become an Affiliate" tab to get started. 
Final Words
As you can see there are some great opportunities out there to earn some extra money, all from the comfort of your bed.
While these websites will not make you a millionaire overnight… they are incredible options to supplement income.
You want to look at jobs that will provide the most bang for your buck (no pun intended). So ask yourself where you can earn the most money. 
Even if you had to wait a week for payments it's better than having to wait a whole two-four week just to get paid.
A few questions you want to ask yourself when looking at work at home online jobs that pay daily is the following: 
1. What do I enjoy doing for work? 
2. Can I see myself doing this work for a long time? 
3. Which companies can I make the most money for the least amount of time spent? 
4. What am I good at? 
Remember, your time is very valuable and it's important to do work that you enjoy. If you love it, you'll keep coming back to your computer.
If not, it will be hard to want to show up and create an income online. 
We want to hear from you!
Please share this article – 'Work at Home Jobs That Pay Daily' on Pinterest!
What online jobs could you see yourself doing? What online jobs are you not a fan of? From the above list of Work at Home Jobs That Pay Daily, which job would you like to try?
Comment below and thank you for reading!
Read More: Ways for Females to Make Money Online From Home