30 Days of At-Home Activities to Keep You and Your Family Entertained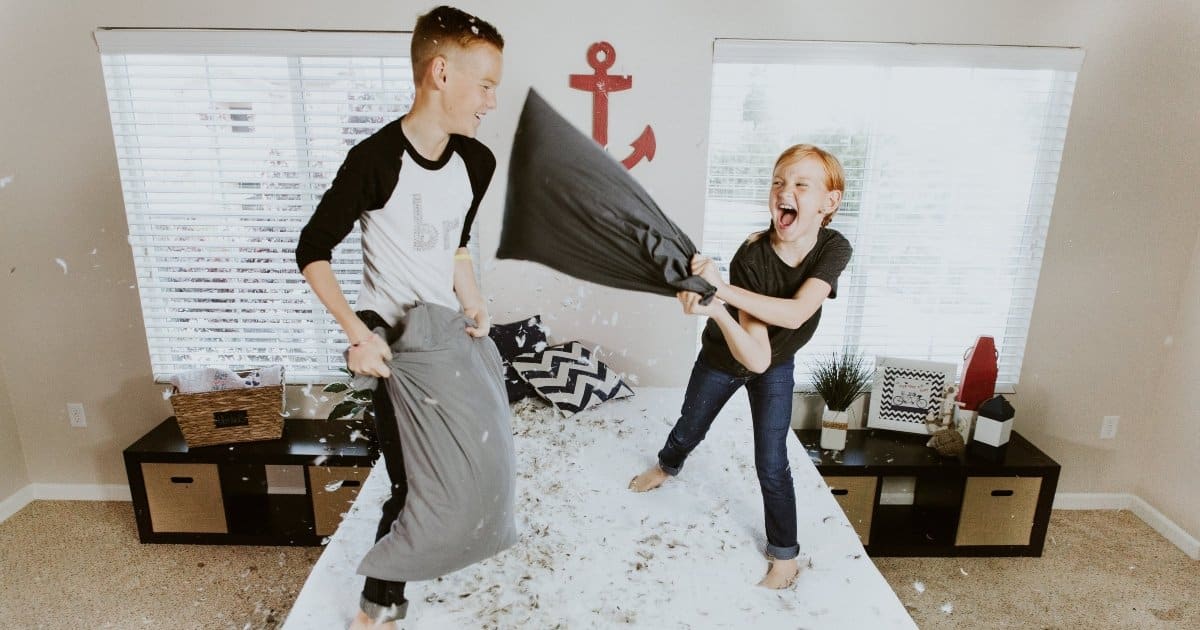 Stuck at home with nowhere to go? Family driving you crazy? Never fear!
If you find yourself confined to your house, you may quickly run out of ideas to occupy your time. It's funny how endless hours of streaming Netflix was so alluring just a few weeks ago. But there's only so much a person can take.
If this is you and you're not sure what to do, keep reading.
There are tons of options to keep yourself entertained (and your sanity intact). Here are 30-days – an entire month! – of fun activities for you and your family to try.
Note: This post may contain affiliate links, which means if you buy from my link I might make a small commission. This does not affect the price you pay. See the full affiliate disclosure

 

here.
1. Movie marathon
Movies are the easiest go-to. Disney released Frozen II to its streaming service early, which will please the younger kids. With endless hours available, you might break out your Blu-ray collection of the Lord of the Rings series or all 12 movies in the Star Wars saga.
2. Draw or doodle
You don't have to be an artist to enjoy drawing. Break out a few blank sheets of paper and a pencil, pen, markers, or paint. Free videos on YouTube can teach you how to draw using specific techniques if you want to learn more.
3. Read a book
If you're like me, you have a stack of books waiting to be read. Now's a great time to pick one up! You might not be able to get out to the library, but the Kindle app is available on most devices. Buy a new e-book or two or six to occupy your time.
4. Learn a new skill
If you've got your eye on a promotion, better paying job, or the next rung in your career, use this time to learn a new skill. Online learning offers tons of possibilities to dig into the topic. You could try e-books, online forums, online courses, or certifications.
5. Write a story
Have a scenario that plays out in your mind? Why not put words to paper! It's time to get creative and tell that story you've been wanting to share.
6. Try a new hobby
Our lives are so busy that finding time for hobbies isn't easy. Since you can't go out to paint the town red, take the time to try a new hobby. Pick up a paintbrush, teach yourself to crochet, learn to sew, or practice yoga.
7. Start a bullet journal
Bullet journaling has become a new passion of mine. It keeps me organized, on track, and focused on my goals. You don't need anything fancy to get started – just a notebook and a pen.
8. Start an exercise routine
Bodyweight exercise is surprisingly effective. If you haven't been active in a while, start slow and work your way up. You don't want to overdo it and spend the next three days hobbling around like a penguin because your legs are sore.
9. Play a video game
My husband Andrew is a huge video game fan. He could get lost for hours! You might try some of his favorites: Assassin's Creed, Halo, Grand Theft Auto, and Pokemon. Give a subscription gaming service a try to get your hands on new games without committing to the high cost.
10. Visit a virtual zoo
I love zoos! And lucky for me, several zoos offer virtual tours. Check out the giant pandas at the National Zoo or the polar bears at the San Diego Zoo. Or check out a live camera feed from a tropical beach, close your eyes, and enjoy the crashing of the waves.
11. Fine-tune your culinary skills
Without the option to hit up your favorite restaurant, you might work on your cooking skills. Try a new recipe, watch culinary videos on YouTube, or test a new food you haven't eaten before.
12. Clean and organize your house
Since you're stuck at home, why not clean the place up? I'm talking about more than just wiping down the counters and stovetop. Go through old drawers and closets to see what you can rid of, and deep clean the corners of every room.
13. Catch up on your sleep
This is probably my favorite suggestion on this list. I love naps! As a species, we don't get enough sleep. Slow down, get to bed at a decent hour, and take lots of naps.
14. Start a blog
Share your passion with the world by starting a blog. You can write about anything from your favorite recipes to how you spent your day.
15. Play a board game
My family loves board games, especially when the weather is bad or we're stuck at home. Monopoly, Risk, and the Game of Life are three of our favorites. Little ones might like Candyland, Chutes and Ladders, or Don't Break the Ice.
16. Learn a new language
Even though you can't travel to faraway lands, you could learn the language. Duolingo is a free app that walks you through easy lessons to learn French, Spanish, Japanese, or other languages.
17. Make a budget
A budget is one of the most powerful tools you can have. Sticking to a spending plan can help you pay off debt, take that vacation you've been thinking about, or retire early.
18. Try a role playing game
Dungeons and Dragons is a popular RPG that lets you create a new character and dive into a fantasy world. You might be a master elf, a halfling, or a dragon. Join your fellow players on an epic adventure.
19. Ask your kids what they want to do
Being stuck at home gives you an excellent opportunity to reconnect with your kids. Ask them what they want to do! You might be surprised at what they suggest.
20. Learn a new dance
YouTube is a great place to learn a few new dance moves. Surprise your spouse by learning the fox trot or have your kids join in to practice old-time disco moves.
21. Have a dance party
Now that you've got some great dance moves, it's time for a dance party. Tell Alexa to play some dance music, slide the coffee table to the side of the room, and show off your dancing skills.
22. Research your family history
Genealogy is addicting. Tracing your family history back is an excellent way to see where you came from. Ancestry lets you create a free account to track your family tree, though you'll have to pay extra to access their database.
23. Put together a puzzle
Puzzles are a good way to pass the time. Check the back of your closet and I bet you'll find one you haven't put together yet – or one you put together a long time ago but haven't seen in a while. Cover the kitchen table with puzzle pieces and invite your whole family to join in.
24. Binge-watch your favorite streaming service
With so many streaming services available, you're never without something to watch. Vampire Diaries is a good one to indulge in, along with Schitt's Creek and the Office. What's your favorite show to binge?
25. Meditate
With everything going on in the world today, taking a time out to just breathe is good for your mental health. I use the Headspace app to take a break from the stress of the world but you could sit quietly and focus on your breath, too.
26. Put together an indoor scavenger hunt
If you can't go outside, take the hunt inside with an indoor scavenger hunt. Your list of things to find might include something blue, something shiny, something very tiny, something with buttons, something that makes you smile, or something that starts with the first letter of your name.
27. Think about places to visit
Once you can leave the house again, what will you do? Make a list of all the museums, sporting events, concerts, and activities you want to explore.
28. Indoor spa
An indoor spa might be just what you need. If you have little girls, ask them to join in. You could paint your nails, soak your feet, and do face masks.
29. Find a community on Reddit
If you can't get outside to enjoy your community, find your tribe on Reddit. One of my favorites is happycowgifs, and Andrew likes squaredcircle (for wrestling fans).
30. Catch up on DIY projects
Want to try a new craft or finally fix your sink that keeps drip, drip, dripping? Now's the perfect time to catch up on all your DIY projects. Check out Pinterest and YouTube for some great how-to's to help you get the job done.
What's your favorite activity when you're stuck at home? Let me know in the comments!