Expert Hacks to Travel With Only a Carry-On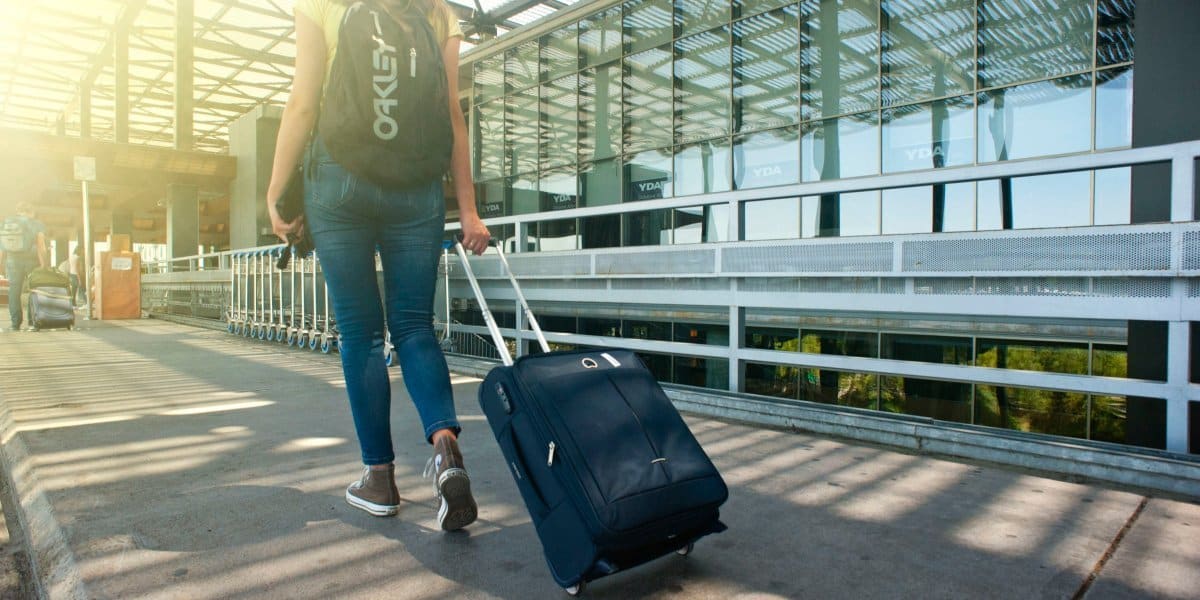 Traveling with luggage is a hassle. From waiting at the baggage carousel to the added fees the airlines charge to check a bag, it's stressful and can get quite expensive. The secret to worry-free flying is to travel with only a carry-on suitcase. But is it possible to fit everything you need using only a carry-on?
Is Traveling with a Checked Bag Really that Bad?
If you've never had a bad experience traveling with checked luggage, consider yourself lucky.
Though the mishandling of bags is down from what it was a few years ago, the Bureau of Transportation Statistics reports 2.70 bags out of every 1,000 passengers are lost or delayed. That's not that high of a percentage, right? Well, no it doesn't sound like much until it's your luggage that's lost.
Plus, your pocketbook suffers because checking luggage adds more to the price of your ticket and is a huge profit-booster for airlines. In 2017, U.S. airlines collected more than $4.5 billion in baggage fees! That's money you could keep in your pocket.
Looking for more reasons to skip checking your luggage and travel with only a carry-on?
You'll get through the airport faster
Your belongings are in safe hands
Your luggage is more protected (and less likely to suffer damage)
You'll save money
You're prepared for delays and long layovers
Maybe you don't travel that often and spending a few extra bucks and more time at the baggage claim is worth it to you. I still urge you to consider traveling a little lighter. You might be surprised how easy it is. And saving money on travel means more money for souvenirs.
How to Travel With Only a Carry-On
The first few times I traveled by air, I packed a carry-on suitcase along with a huge bag that I had to check. The idea of fitting everything into one tiny suitcase was baffling, especially when traveling with little ones.  But on a quick weekend trip, I packed only a carry-on to save money on travel costs, and it was the most freeing feeling!
Since then, I've taken longer trips (8 days and more) and managed to fit everything I need into my carry-on.
I highly recommend it. Plus, I promise you that leaving the bulky luggage at home is do-able. Here are a few tips to slim down your packing list and save money on travel with only a carry-on.
Only pack for what you're going to do.
Unless you never miss a workout, leave your gym clothes at home. And if you can get everything done on your tablet and phone, you can leave the laptop out. I don't think you need "dress up" clothes, either. If you're unexpectedly invited to dine at an upscale restaurant, you can hit the local stores for the perfect little black dress to wear. Otherwise, regular (a.k.a. comfortable) clothes will do just fine.
Set everything out on a flat surface (I use my bed) to get a good look at all the stuff you think you need to take, and then spend some time evaluating what's there. When I do this, there's always something I can take off my packing list. Do you need four pairs of shoes? Spoiler alert: You don't. And you probably packed too many clothes too. Try to narrow down your choices.
Don't forget your "gotta have it" item.
The last time you went on a trip, did you find yourself thinking, "shoot, I wish I had packed ____." For me, it was my earbuds. Weird, I know, since everybody who's anybody never leaves home without them these days. I'm not generally big on listening to podcasts or YouTube on-the-go, but when I find myself waiting at an airport or unwinding in a hotel room, it's nice to have the option of listening without disturbing everyone else around you.
Don't forget your tote-bag.
With most airlines allowing one carry-on and one "personal item" when you board the plane, give careful consideration to what you put in your tote-bag. You'll definitely want to put anything you need quick access to in there, like your identification, book to read (unless you do this on your phone), charging cables, earbuds, and an empty water bottle (to fill when you get past security – saves you money by not having to pay $4 or more for a single bottle of water at the airport).
What's in My Bag
When traveling, I pack my favorite JanSport backpack (like this one) along with my carry-on. It has tons of pockets and compartments, making it easy to organize and find things when I'm on the go.
And I recently invested in a new "spinner-wheel" carry-on suitcase, and it's seriously the coolest thing ever. I don't have to worry about it tipping over like my old luggage does (since it only had wheels on one side), and it glides effortlessly across the floor.
Here's my must-pack list for traveling with only a carry-on:
Clothes
A light sweater or jacket
2 pair of jeans
1 pair of dress pants
2 t-shirts
2 blouses
Pajamas – A super-big t-shirt plus yoga pants is my go-to
Socks -" Regular socks, plus I throw in a thick, fuzzy pair for extra comfort in the hotel room
Underwear and bras
Swimsuit – Even if you're traveling somewhere cold, maybe the hotel has a pool
Flip-flops or sandals – For walking back and forth from the pool to your hotel room
Dress shoes – When traveling, I usually stick to flats unless I have a fancy event to go to
Tennis shoes – I usually wear these and pack dress shoes
Toiletries
When packing these items, remember the 3 oz. rule for liquids when flying and make sure your prescription medicines are correctly labeled.
Toothbrush
Toothpaste
Deodorant
Travel face wash set from Mary Kay
Makeup – Foundation, blush, eyeshadow, mascara, and makeup brushes
Hairbrush and mousse/hairspray
Chapstick – I can't live without this, so it deserves its own line LOL
Prescription medication
Tylenol
Lactaid pills – Because I'm lactose intolerant and they do help – my hubby will vouch for it!
Other Must-Have Items
Identification – For me, it's my driver's license
Printed out copy of flight information, driving directions from the airport and hotel reservation confirmation
Health insurance cards
A credit card and some cash
Phone charging cable (and power adapter, if needed) and earbuds
Laptop and power cords (sometimes I leave the laptop at home, but it's a must-have on business trips)
Book for long layovers and reading on the plane
Final Thoughts
Traveling without all that extra baggage will change your life. You won't have to worry about lost luggage or hang around waiting at baggage carousels. Plus, since you only have one carry-on, you won't have to lug around big, heavy suitcases when you get to where you're going. On your next trip, stick to only a carry-on and see how it goes.