How I Made a Quick and Easy Meal Plan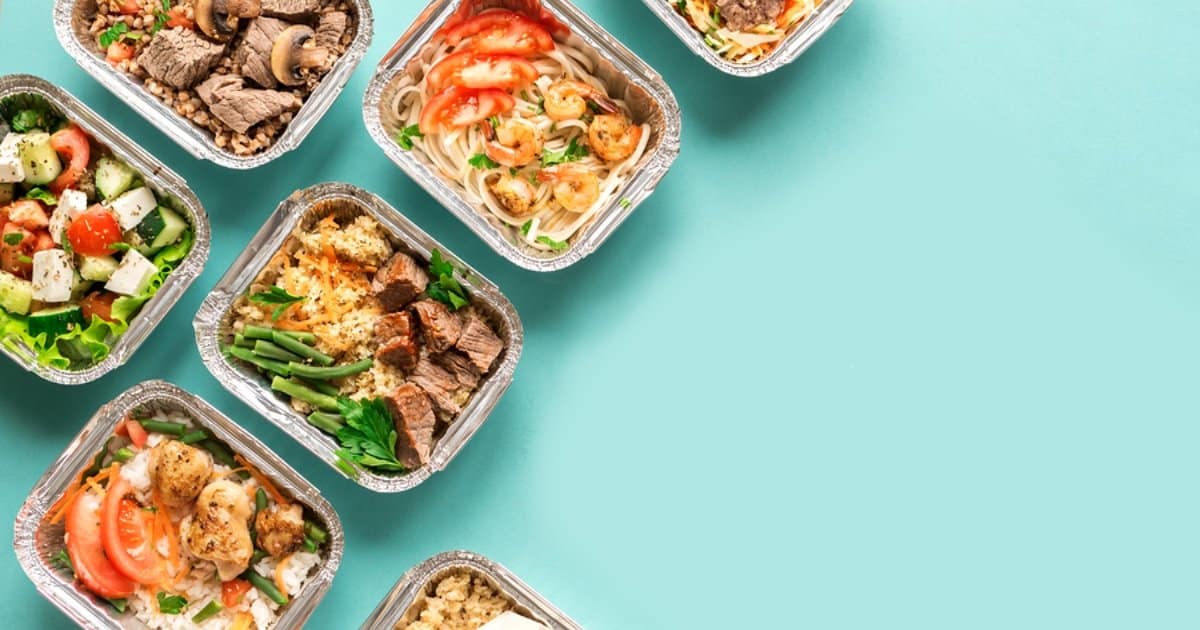 When it comes to making dinner, I never know what to cook. I've tried doing a weekly meal plan before, but got tired of eating the "same old thing." So, I'm trying again with a new quick and easy meal plan.
What is Meal Planning?
Meal planning is writing down what you plan to eat for the week. It isn't super complicated, but it does take a little time to get started.
I focus on dinner ideas because breakfast and lunch tend to come easy for me.
When making your meal plan, you have to be realistic. If you don't have the time or energy to spend an hour cooking in the evening, you need to pick an easier recipe. And sometimes, you may have to rely on store-bought freezer meals (one of our favorites around here are the Voila! dinners from Birds Eye).
When it comes to cooking, I'm all about simplicity. The easier, the better. I mean, why spend an hour cooking if I can have a healthy meal on the table in 20 minutes?
My mom is a tremendously wonderful cook. She adores spending time in the kitchen and even volunteers to make food for church functions and family gatherings.
I'm not sure how it happened, but I'm essentially the opposite: my idea of cooking isn't much more than throwing boneless chicken breasts or pork in the oven and cooking a bag of Steamfresh veggies in the microwave.
But you can go as simple or complex as you'd like. Just make sure it's a meal plan you'll follow because it's a waste of money to buy a bunch of food that you won't use.
Once you have a list of things for your meals, you make a grocery list with all the items you'll need for the week.
Benefits of Making a Meal Plan
I dread planning out our weekly menu but it's how I save money on groceries – when you plan your meals and stick to your grocery list, it's so much easier to keep your food costs down.
But money isn't the only benefit of making a meal plan.
Reduces stress – Figuring out what to feed your family every day is exhausting. Maybe people that love to cook and spend time in the kitchen are energized by the idea, but it stresses me out. A weekly meal plan answers the "what's for dinner" question, and lets you plan and cook meals your whole family can enjoy.
Saves time – If there's one thing I hate more than planning a weekly menu, it's grocery shopping. It's so time-consuming! Rather than wasting time on several trips to the grocery store, you can limit your shopping to once a week if you make a meal plan. Yes, please!
Healthier eating – When you're hungry, you want something quick and easy so you can eat now. Instead of making decisions at the last minute (and taking the chance of succumbing to restaurant meals or fast food), you can plan healthy options ahead of time.
How To Make a Meal Plan
I've been planning weekly meals forever. But I still go to the fridge and ask myself "what am I going to make for dinner?"
To put an end to that annoying question, you can sign up for emeals and have your meals and grocery list made for you. That's the easiest, and I buy a three-month subscription about once a year for new ideas.
You can preview their recipes for free and you can try it free for 14-days. If you've never done it, you can save a ton of time. And the recepes are really good!
But if you want to make your own, here's how to make a meal plan:
Decide if You Want Themed Nights
Having themed nights is an excellent option for some. I'm pretty dull when it comes to meal planning, so if I see "pasta night" you can bet we'll have spaghetti.
My meal planning needs to go beyond a theme and list a specific meal to cook.
Collect Trusted Recipes
Everyone has a few go-to favorites they like, and including those in your meal plan is a win-win. What you don't want to do is make your meal plan out of a bunch of new recipes you saw on Pinterest.
Stick to the ones you know your family will love.
Start Your Plan
Sort your recipes and meal ideas by protein to mix things up. I love chicken, but even I don't want to eat it three nights in a row. (Some people try meatless meals, but I can't get my family on board with that idea.)
Make a List
To make a list, all you need is a sheet of paper. You can use an app on your phone (I like Evernote for stuff like this), but paper and pencil keeps it simple.
List the days of the week at the top and write down a dinner recipe for each day. Since I'm making a two-week meal plan, I put two down for each day, so I had 14 meal ideas (enough for two weeks).
Underneath your weekly plan, make a list of all the ingredients you'll need to make those meals. Don't forget to add spices and condiments.
Figure out What You Have and What You Need
Now that you know what you need to create healthy meals for your family all week, you need to see what you have on hand and what you still need to buy.
As you go through your cupboards, freezer and refrigerator, you can cross off items you already have. And if you find you need something that isn't on your list, you can add it.
Since I don't plan specific meals for breakfast and lunch, I add eggs, bread, cereal, lunch meat, and those types of things to the list so I have easy options in the house.
Share Your List
I hang our weekly meal plan on the refrigerator. That way everyone knows what to expect for dinner and I know what needs to come out of the freezer for that night's meal.
Plus, knowing what's for dinner will deter the temptation to hit the drive-thru for you and your family.
Time to Shop
Before I hit the grocery store, I go through my favorite money-saving apps to see if I can take advantage of any offers. I use Ibotta, Checkout51, and Flipp mostly. If there are others, please let me know!
Now that you have your list and coupons, you can buy groceries – to keep your budget on track, make sure you stick to your list.
Repeat
If you made a two-week meal plan, you only need to spend time at the store every two weeks. But for most people, meal planning a week at a time is enough.
As long as you change it up and don't have the same thing too often, no one will ever know that you had lasagna precisely 14 days ago.
What My 2-Week Meal Plan Looks Like
I've already said that I like to keep things simple, and I don't usually spend more than 30-minutes in the kitchen making dinner. If I'm making a special dish for a holiday meal, or a new recipe by request from my hubby or daughter, I might. But it's pretty rare.
With that said, here's my super-simple meal plan.
Week One
Sunday: Barbecue chicken, baked potatoes
Monday: Spaghetti, tossed salad
Tuesday: Tacos
Wednesday: Rotisserie chicken, mashed potatoes
Thursday: Greek pork chops, roasted broccoli
Friday: Pizza
Saturday: Leftovers
Week Two
Sunday: Meatloaf or Pork Loin, mixed veggies, mashed potatoes (Andrew's cooking and these are his two signature dishes, so he gets to pick)
Monday: Creamy crock-pot chicken and noodles
Tuesday: Try a new recipe
Wednesday: Steak, baked potato
Thursday: Leftovers
Friday: Hamburgers, baked french fries
Saturday: Chicken parmesan, tossed salad
My Two Kitchen Shortcuts
Even with a meal plan, sometimes I still don't know what to make for dinner.
Sometimes it's because I'm not in the mood to eat what I had planned. Other times it's pure laziness, and on those nights it's easy to give in to the temptation to hit a drive-thru or order pizza.
That's exactly the reason I always do these two things:
I always keep a few store-bought freezer meals on hand. It's not as budget-friendly as making a homemade meal, but it's certainly better than going out to eat.
I always have a night reserved for leftovers.
But even I get bored of eating the same thing. And that's when I feel inspired to try something different.
In case inspiration strikes me, I kept one night open in week two, so I can make a new recipe. And if I don't, I can always rely on one of my signature dishes: a family-size bag of Cheesy Chicken from Birds Eye Voila!
What is your favorite go-to recipe?
Do you have a meal plan or used themed nights for planning dinner?